"Concussed!" Book Launch and Press Conference
Thu. Oct. 4, 2012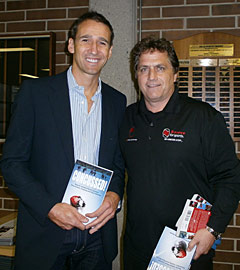 The book Concussed! Sports-related Head Injuries: Prevention, Coping and Real Stories is a look at the world of concussions through the eyes of players, parents and children. It outlines the cause, effects and consequences of the injury and was launched on October 4th at UWinnipeg.
The book contains stories from leading experts in their field including The University of Winnipeg's Dr. Glen Bergeron, along with professional athletes such as Keith Primeau, Wayne Primeau, Chris Nowinski, Tim Fleiszer, Kyle Quincey and many more. Ron Ellis forwards the book and many media personnel call it a must read for anyone who is participating in sport or has a loved involved.
As Manitobans are becoming more aware of the issue and dangers of concussions, people are looking for knowledge and resources regarding how to tell if an athlete is concussed; what to do; and where to go for care and support.
An important new resource The University of Winnipeg's Heads Up Concussion Institute, which was established in June 2012 and is directed by Dr. Glen Bergeron, Associate Dean of Kinesiology.The purpose is to provide optimal prevention, education, monitoring, treatment and research of concussions.
Dr. Bergeron is a Certified Athletic Therapist with a special interest in concussions and brain injury.  He was a founding member of the Manitoba Brain Injury Association. He is also one of the contributing authors in the book and introduced Concussed! co-author Kerry Goulet (co-authored with Keith Primeau).
Now residing in Toronto, Kerry Goulet was born and raised in Winnipeg, Hockey has been his life. In 2006, Kerry was inducted into the Canadian Ball Hockey Association's Hall of Fame. Kerry had an international ice hockey career that saw him spend 16 seasons as a player, coach and general manager with six different teams in Germany. Kerry is one of the founders of stopconcussions.com with Keith Primeau, former captain of the Philadelphia Flyers and has become one of the leading ambassadors for safer hockey and helping to knock out concussions and spinal cord injuries in hockey.
The press conference also featured UWinnipeg alumni, Dr. Anthony Kaufmann, one of Canada's leading neurosurgeons. He was appointed Co-Director of Canada's first Gamma Knife Surgery Centre and is also Co-Director of the Centre for Cerebrovascular Disease. Dr. Kaufmann is a former basketball player with both the Wesmen and the U. of Manitoba Bisons. Also a member of Concussions Resources Manitoba, he is keenly interested in furthering research into the prevention and management of concussions.
Other special guests were young athlete,Desirae Scott, who sustained two concussions in her hockey career and spoke about this challenging time of her life; she is now passionate about concussion awareness and the affects they can have in sports.
Brain injury also has a profound effect on the family, and loved ones of the brain injured person. We also heard from soccer mom, Joan Bueckert, the mother of a 19 year soccer athlete who sustained a concussion, and subsequent post concussion syndrome. Joan shared her experience and how her daughter's condition continues to be a challenging process of recovery.
Pictured above:Alumni Dr. Anthony Kaufmann with former Winnipegger and Concussed! co-author, Kerry Goulet.