Dr. Daya Gupta and Dr. Chander Gupta
Gupta Faculty of Kinesiology and Applied Health
---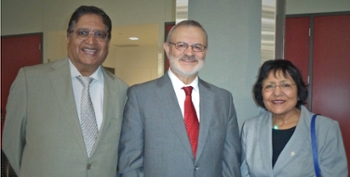 The Faculty of Kinesiology (established July 1, 2012) has been re-named
through a donation from Drs. Daya and Chander Gupta,
shown here with Kinesiology Faculty Founding Dean, Dr. David Fitzpatrick

Dr. Daya Gupta is a leader in the community, a champion of eye health and a generous philanthropist. For the last 40 years, he has been recognized as one of the top cataract surgeons in Manitoba, having pioneered the out-patient small incision surgery for cataracts. He also opened one of the first refractive eye surgery clinics in the province. Dr. Gupta is chief eye surgeon at the Gupta Eye Centre, as well as Medical Director of the Ultravision Eye Laser Centre. He is a specialist in cataract, glaucoma, retinal laser and Excimer Laser Surgery, and has undergone extensive training in both Canada and the U.S. He has performed almost 50,000 successful cataract surgeries and provided treatment to more than half a million Manitobans during his career.
In recognition of his contributions to the community and his service to his patients and the medical community, Dr. Gupta received the 2013 Lieutenant Governor iCARE Award, He was awarded the prestigious Physician of the Year Award by his peers in 2011, and also received the Queen's Diamond Jubilee Award in 2012 and numerous awards from East Indian Organizations. He is the founding president of Manitoba Association of Asian Physicians and has participated in annual Eye Camps in India, providing those in need with free surgeries and glasses.
Dr. Chander Gupta is an uro-gynaecologist, a national authority on urinary incontinence, and an advocate for women's health. She was the first Manitoba gynaecologist to perform uro-dynamics studies on female patients and a pioneer in using new procedures to improve the quality of life for countless Manitoba women. She is well known in the medical community for her outstanding contributions as clinician, teacher, role model, mentor and patient advocate.
She was awarded the Order of Manitoba in 2005. YM-YWCA awarded her with the Lifetime Achievement award in the year 2015. For her dedication to excellence in-patient care, she received the Manitoba Medical Association Physician of the Year Award in 2004. She is also the recipient of the Distinguished Service Award by the Indo-Canadian Cultural and Heritage Association and a founder of the Pearl for Life Golf Tournament to aid ovarian cancer research.
The Guptas have established numerous scholarships in our community to support academic and athletic talents. The Guptas are avid golfers and strong supports of Winnipeg's Niakwa Country Club.
Click here to learn more about research and programs underway inside the Health & RecPlex and Gupta Faculty of Kinesiology and Applied Health.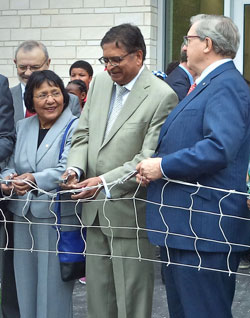 Photo: (Left-right) Dean David Fitzpatrick (rear);
Drs. Chander and Daya Gupta; former UWinnipeg President,
Dr. Lloyd Axworthy - at RecPlex Ribbon Cutting Ceremony, June 2014