Indigenous Health and Wellbeing in Times of Pandemic
Indigenous UWinnipeg
---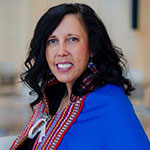 Dr. Carrie Bourassa
Dr. Bourassa is the Scientific Director of CIHR's Institute of Indigenous Peoples' Health (IIPH). Through IIPH, she leads the advancement of a national health research agenda to improve and promote the health of First Nations, Inuit and Métis Peoples in Canada.
Dr. Carrie Bourassa spent over 15 years as a professor of Indigenous health studies in the Department of Indigenous Health, Education and Social Work at the First Nations University of Canada (FNUniv) in Regina.
Dr. Bourassa is a member of the College of New Scholars, Artists and Scientists of the Royal Society of Canada and a public member of the Royal College Council of the Royal College of Physicians and Surgeons of Canada.
In 2012, Dr. Bourassa won the Wiichihiwayshinawn Foundation Inc. Métis Award in Health and Science. Dr. Bourassa is Métis and belongs to the Riel Métis Council of Regina Inc. (RMCR, Local #34). She earned her Master of Arts degree in political science and Ph.D. in social studies at the University of Regina
Dr. Winona Wheeler is a member of the Fisher River Cree First Nation in Manitoba. Winona's family comes from Gorge Gordon First Nation, Saskatchewan. A lifelong student of Indigenous knowledge, oral history, post-colonial theory and Indian-White relations, Winona has been teaching and publishing in Indigenous Studies since 1988. In addition to her faculty appointment at Athabasca University in the Centre for World Indigenous Knowledge and Research, she is/was the Lead Researcher in the AMC-TRCM Manitoba Treaties Oral History Research Project and the TRCM Research Strategist. Dr. Wheeler earned her PhD in Comparative Ethnic/Native American Studies in 2000, at the University of California, Berkeley, her MA (History) in 1988 from the University of British Columbia, and a BA Honors (History), 1986, from the University of Manitoba. She is of Cree/Assiniboine/Saulteaux/Irish/English heritage.