Paul Lawrie
History
---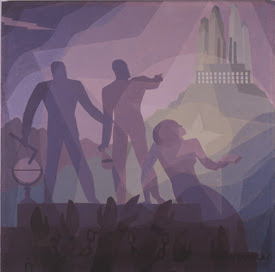 Title: Associate Professor
Office: 3A35
Building: Ashdown
Phone: 204.786.9373
Email: p.lawrie@uwinnipeg.ca

Courses:
HIST-1015(3) The Atlantic World: Europe and the Americas, 1700-1989
HIST-2600(6) U.S. History from 1607-Present
HIST-3603(3) U.S. History 1878-1929: Race in the American City
HIST-4605(6) Cultures of American Capitalism
GHIST-7609(6) Studies in American History since 1877: Cultures of American Capitalism

Research Interests:
Cultural and Social History of the United States post 1877; African American, Labour, Urban, and Disability Histories; Historical Cultures of Time and Temporalities

Publications:

Selected Publications:
"Race, Work and Disability in Progressive Era America", The Oxford Handbook of Disability History, Eds., Michael Rembis, Kim Neilson,  (Oxford University Press, 2018): 229-246.
"Forging a Laboring Race: The African American Worker in the Progressive Imagination (NY: New York University Press, 2016)" http://nyupress.org/books/9781479857326/
"The Tragic Action and Revolutionary Intent of Black Lives: Historical Genealogies of Cornel West's Prophetic Pragmatism in Post-Racial America" , Truth in the Public Sphere, (Editor) Jason Hannan, (Lexington Press, 2016): 63-77.
"'Salvaging the Negro': Vocational Rehabilitation and African American Veterans 1917-1924", Susan Burch and Michael Rembis editors (University of Illinois Press 2014): 321-344.
"Mortality as the Life Story of a People: Frederick L. Hoffman and Actuarial Narratives of African American Extinction, 1896-1915", Canadian Review of American Studies (Vol.43:3 2013): 352-387.
*Winner 2014 Ernest Redekop prize for best article in the Canadian Review of American Studies, sponsored by the Canadian Association for American Studies (CAAS).
 Review of Jim Downs, Sick From Freedom: African American Illness and Suffering During the Civil War and Reconstruction, Oxford: Oxford University Press, 2012, (Left History, 16.3 Summer 2013): 139-141.
Soldier Exposures in Technical Publics, "Disability and African American Veterans of WW1" Editor, Zoe Wool, Public Culture  www.publicbooks.org (2013) 
Review of Rebecca Hill, Men, Mobs, and Law: Anti-Lynching and Labor Defense in U.S. Radical History, Durham: Duke University Press, 2008, (Labour/Le Travail, No. 65 Spring 2010): 229-231.