Meet Your Graduate Student Ambassadors
Graduate Studies
---
The Faculty of Graduate Studies invites you to connect directly with our student ambassadors, Madison Herget-Schmidt and Emma Traynor, to chat about student life, why they chose UWinnipeg, what their major is like, their time as a new UWinnipeg student, and any other questions, from the student perspective.
Recently, the Faculty of Graduate Studies spoke with this year's Graduate Student Ambassador, Emma Traynor.
To read about Madison Herget-Schmidt
---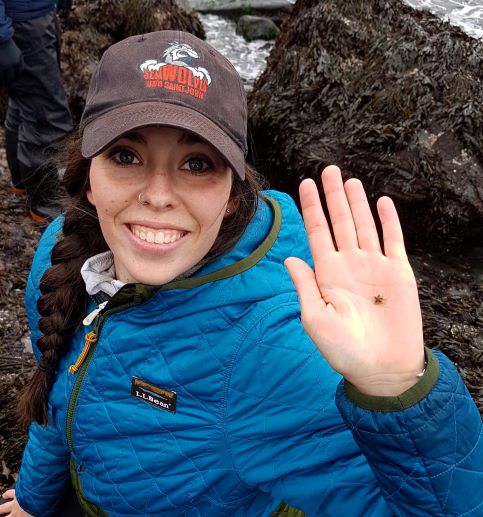 Emma Traynor
Graduate Program: Bioscience, Technology, and Public Policy 
Favorite Courses: Fisheries and Aquaculture · Fisheries Ecology & Management · Fish Physiology
Can you tell us a bit about yourself and the program you are currently enrolled in?
I did my undergraduate degree at the University of New Brunswick on the east coast of Canada. There I received a degree in biology with a major in Marine biology. Presently I am pursuing a master's degree at the University of Winnipeg. My area of study is fish physiology! In the future, I hope to continue in fisheries management and research. 
Can you describe your role as a Unibuddy, and what are some of the areas that you may assist students in?
My role with Unibuddy is to be a point of contact for perceptive students to ask questions about graduate student life and my experience as a graduate student in the bioscience, technology, and public policy program. Some ways in which I assist students can include directing them to the correct web for the different programs, talking about my experience as a graduate student at UW, as well as talk to them about my experience moving to Winnipeg.
At the moment, you are in your first year in the Bioscience, Technology, and Public Policy graduate program. What have you enjoyed the most about the program?
Currently, I am really enjoying going through the process of setting up a larger scale experiment. I never realized how much time and planning went into them. Thus, gaining this experience of leading the planning has been a fun and challenging experience for me.
---
To read more student features, please visit here.