Meet Your Graduate Student Ambassadors
Graduate Studies
---
The Faculty of Graduate Studies invites you to connect directly with our student ambassadors, Madison Herget-Schmidt and Emma Traynor, to chat about student life, why they chose UWinnipeg, what their major is like, their time as a new UWinnipeg student, and any other questions, from the student perspective.
Recently, the Faculty of Graduate Studies spoke with this year's Graduate Student Ambassador, Madison Herget-Schmidt.
To read about: Emma Traynor.
---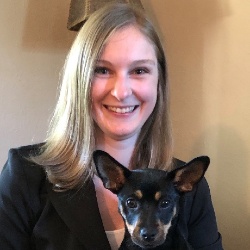 Madison Herget-Schmidt
Graduate Program: History
Favourite Courses: Europe in Crisis 1914-45 · History and Memory · Advanced Studies in Canadian Social History
Can you tell us a bit about yourself and the program you are currently enrolled in?
In June 2020 I graduated from the U of W Integrated Faculty of Education program with a Bachelor of Arts (Hons) degree in History and a Bachelor of Education Degree. I am currently a first year grad student in the History Joint Master's Program (JMP) through the U of M and U of W. I enjoy reading books especially history books, and doing research. My main areas of interest are Canadian war history, medical history and the intersection between these two fields. 
Can you describe your role as a Unibuddy, and what are some of the areas that you may assist students in? 
One of the primary areas that I can assist students in is finding information specific to the graduate program they are interested in applying for. This can include providing information about admission requirements for their program from the program web-page, and providing a list of required courses for their program if there is one. If there are questions I cannot answer myself, I can also provide students with email contact information for Graduate Studies program chairs who can assist them further.
Another role that I have is providing students with information about what life is like on the UWinnipeg campus and what my experiences as a student at the university have been. This is a role I thoroughly enjoy, because through learning the interests of students that I communicate with through the Unibuddy platform, I can provide advice for specific student groups and activities offered on campus that might be of interest to them. 
Due to the COVID-19 pandemic, learning online has become a new reality for myself as a student, as it has for many others. Many of the prospective students I talk to are curious to know about my experiences with digital learning, and how I have been able to maintain relationships with my peers during this time.
What do you enjoy, or have enjoyed, about your favourite courses?
What I have enjoyed the most about all of my favourite courses is the passion and interest that my professors have had for their area of interest, and this directly impacted the quality of instruction that we were provided. I have also greatly enjoyed having the opportunity to do research projects that connected my areas of interest to the courses that I was taking. I have been fortunate to have had great experiences in all of the history courses that I took at UWinnipeg, and it was the courses I took and the professors I worked with who inspired me to want to attend graduate school.
To read Madison's blog, please visit: https://api.unibuddy.co/og/university-of-Winnipeg/blogs/601864b095405b0f75ca9168https://www.uwinnipeg.ca/future-student/chat-with-us.html
---
https://api.unibuddy.co/og/university-of-Winnipeg/blogs/601864b095405b0f75ca9168https://api.unibuddy.co/og/university-of-Winnipeg/blogs/601864b095405b0f75ca91