Meet Blake Carter - The Graduate Student Writing Mentor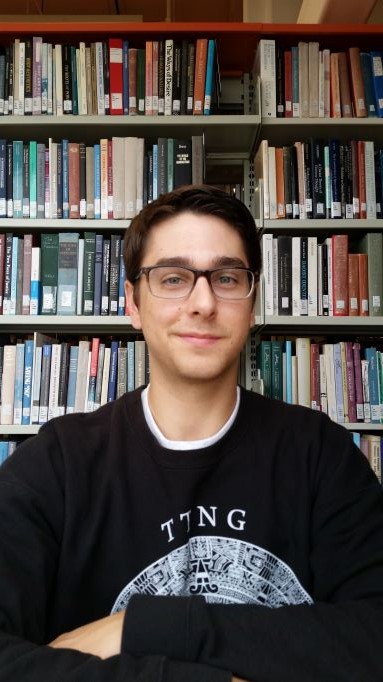 The Faculty of Graduate Studies is pleased to introduce Blake Carter. You may have met Blake during our Graduate Student Orientation at the start of September. Blake, a MA of English Literature graduate student, is the new Graduate Student Writing Mentor for the 2021-22 school year and he is eager and excited to get started.
Can you tell us bit about what graduate program you're enrolled in and your research interests?
Hi everyone! 
My name is Blake Carter, and I am very excited to be working with the Faculty of Graduate Studies as the Graduate Student Writing Mentor! Having done my undergraduate work in English Literature at the University of Winnipeg, I am so stoked to have the opportunity to return and help make the writing experience for this year's grad students one that is productive and rewarding!
I am in my final semester of study at Brock University's Master of Arts program in English Literature. My research interests primarily revolve around speculative fiction and the ways in which fantasy and science fiction texts interact with critical theory. As such, I am currently working to complete my thesis on Ecocritical Decolonization in N. K. Jemisin's Broken Earth trilogy. 
Can you describe your role as the Graduate Student Writing Mentor?
As the Graduate Student Writing Mentor, I am here to provide all graduate students with writing support. This support can take the form of individual writing sessions (either in-person or online), where we discuss any writing assignment that you may have. Students are free to book one of these tutoring sessions at any stage of the writing process, whether you have just received a research paper and want to start planning for it, or whether you have a completed essay and want one last set of eyes to review it before submission. In addition to these one-on-one writing sessions, I will also be hosting several a series of Writing Skills Workshops through Zoom that focus on 4 themes that are crucial to a successful Graduate writing experience. In these workshops, I will be providing information and resources on the Research Process from A to Z (September 24, 10:00-11:00 am), Reading and Note Taking Strategies (Oct. 6, 10:00-11:00 am), Writing Effective Proposals (October 29, 10:00-11:00 am), and Synthesis Writing: Incorporating Secondary Sources into Research Papers (November 12, 10:00-11:00 am). 
Can you tell us a bit about the first workshop, The Research Process from A to Z, scheduled for September 24th from 10:00am-11:00am?
For the first workshop on the Research Process from A to Z, we will be going over what the research process at a graduate level looks like from an interdisciplinary approach. We will also do a brief overview of the various resources available to graduate students at the U of W, as well as useful organization strategies that students can use as they begin their own research. 
What are your priorities going forward in this new role and what are you looking forward to the most?
As the fall term begins, my priority going forward as the Graduate Student Writing Mentor is to begin connecting with my peers here at the U of W. Graduate studies can be a highly rewarding experience filled with opportunities for both personal and academic growth, but if you're not careful, it can often become a rather solitary existence (a fact exacerbated by Covid-19 and the online learning that we have all been forced to adopt). Moving forward throughout the 2021-22 academic year, I hope that I am able to offer my assistance to all graduate students with any writing concerns that you may have. The simple act of reading through your work with another human being is surprisingly helpful to both your writing and your mental health, so please do not hesitate to reach out and chat about your writing.  On a personal level, I also value the opportunity provided by writing tutoring to read through work from a variety of disciplines. I have always found the peer tutoring experience to be one that is mutually beneficial, so I am very excited to learn more about the research that you are all carrying out! 
How can students contact you?
To book a tutoring session, discuss an upcoming workshop, or just chat about the writing process, feel free to shoot me an email at blake22carter@gmail.com.
Thank you Blake, and good luck in the new role!
For more information regarding our Fall programming, please visit: Fall 2021 Graduate Student Workshop Schedule