Bohdana Kornelyuk Shares her Experience in the Joint Masters Program (JMP) in Religion
Graduate Studies
---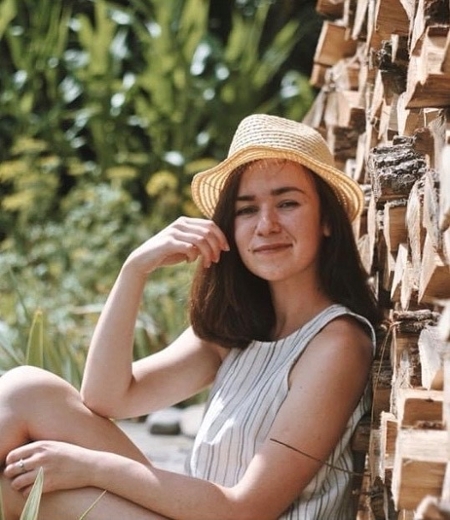 The Faculty of Graduate Studies caught up with Bohdana Kornelyuk, an MA student in the Joint Master's Program (JMP) in Religion, to discuss her experience with the program and her recent thesis defense. The JMP program is offered jointly between The University of Winnipeg and The University of Manitoba. Students take courses at either university and are awarded degrees upon satisfactory completion. Programs include: History, Religion, Peace and Conflict Studies and Public Administration.   
Can you tell us about yourself, your educational background, and why you enrolled in the JMP in Religion? 
I'm Bohdana, an international student from Ukraine. Before applying for the Master's Program at the University of Manitoba, I graduated from the Ukrainian Catholic University with a Bachelor of Arts in Theology. After spending the last term of my undergraduate program as an exchange student in Sweden, I finally decided to continue my education somewhere abroad. Canada was my first choice. While researching possible schools, the JMP in Religion caught my eye immediately. As my bachelor's program was focused solely on Christian theology (even mostly Catholic) along with Philosophical disciplines, expanding my knowledge on religion and culture overall was appealing. Not to say that masters students in the program can't benefit from both the U of M and the U of W resources including classes and library access. 
Can you tell us about the program and your research focus?
Students enrolled in the program can choose from two options to complete it: a thesis-based or comprehensive route. I picked a thesis-based one. In this case, besides classes - I had 4 courses during my first year: 2 per term - a student has to write and present their thesis. This option allowed me to better develop writing and analytical skills while pursuing my own research. I focused my thesis on the history of the Ukrainian Greek-Catholic Church and aspects of its activity during 1939 - 1945. The questions of Eastern Catholic Churches aren't widely discussed in Western academia, so I tried to bring in the issues of one of the biggest among them. 
Recently, you defended your thesis titled "Seeking Compromise: Encounters between the Ukrainian Greek-catholic church and the soviet state". What was the highlight of your thesis research for you?
Primarily, my research focused on the relations between the Soviet state and the Ukrainian Greek-Catholic Church during World War II. These were hard times for the Church as clergy had to negotiate with the Communists. In the thesis, I identified three major options that were available for priests to respond to Soviet anti-religious policies. Based on Ukrainian archival sources, I  analyzed priests' motivation for a particular choice.  Besides, I couldn't't omit the discussion on the relations between the Greek-Catholic clergy, Ukrainian patriots, nationalists and the Germans, who occupied western Ukraine from 1941 - 1944, as all of these had a place in their connection with the Soviets.
What are you going to take away from your experience as a student in the JMP program?
If I said extensive knowledge in my area or something like that, then it would be too trite; However, I will list a few things.
I learned to look at things from broader perspectives and look deeper. This skill will help in career as well as in daily life.
I learned to see the mistakes I have made as necessary steps to progress and development.
And of course, as an international student being very far from home, I learned to be patient and value time with my family.
Thank you so much for your time! Congratulations!