Graduate Students Participate in "Imagining Canada's Future" Initiative
Graduate Studies
---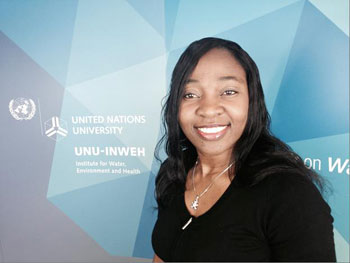 The Faculty of Graduate Studies recently participated in the "Imagining Canada's Future" initiative with the Canadian Association of Graduate Studies and the Social Sciences and Humanities Research Council. This project involved a round table discussion with a group of graduate studies on the question of: "How are the experiences and aspirations of Aboriginal Peoples in Canada essential to building a successful shared future?" Master's in Development Practice Student Busola Olaniyan acted as project rapporteur and will be participating in a panel on this topic in Ottawa during the Humanities and Social Sciences Congress in June.  We spoke with Busola about her experiences with this initiative to date:
Can you talk about your role in this project?
My role as the note taker for the CAGS/SSHRC project: Imagining future research challenges was a remarkable one. I felt very happy completing this exercise. I had a broader perspective of the three links: Science, Research and Development practice in the indigenous context. I played a dual function during the round table session as a participant and simultaneously a note taker. My previous rapporteur experience was invaluable during the round table discussion; I had an excellent summary that was converted to a detailed report.
What interested you in participating?
My passion for indigenous development with a spark of doing development differently is the reason for my participation. The discourse enhanced my understanding of the challenges faced by sustainable development with respect to traditional and contemporary Indigenous values, cultures, leadership and knowledge systems.
How does this fit in with your program at the UW?
It increased my understanding about Aboriginal matters stirred from several discussions during my graduate program in indigenous development. The program also positioned me well for the analysis of the unique issues and principles affecting indigenous people with a particular focus on doing development differently. The knowledge acquired during the round table discussion is valuable for my Masters program because there is no development process that can unfold successfully without understanding Indigenous ways of life and Indigenous worldview.
Can you talk about your current program, and your educational background?
I am currently studying for Masters in Development Practice (indigenous focus) but previously completed my BSc Microbiology at the University of Lagos Nigeria and a Masters in the Environmental Management (MEM) at the same university. I have a multidisciplinary background, ranging from policy work for profit and non-profit organisations. My exposure to grassroots development projects across Africa and the Middle East is my drive towards seeking working solutions in development and environmental issues respectively. My educational and career experiences have prepared me for this goal with a holistic approach, aiding my understanding of indigenous development and environmental problems on a global scale while identifying the causes and the consequences of these problems as well as analysing how culture, beliefs and policies fan the flames of these problems.
My unique multidisciplinary background will be valuable to bridge science and policy to achieve my goal of doing development differently. There will be an interaction of science and policies to address issues around sustainable indigenous-led development.
What did you find most interesting about the discussion during this event, and did anything surprise you?
The most interesting outcome was the discussion around participatory-methodology that will empower indigenous people to partake and benefit from the research as well as creating a sense of ownership within the communities. My greatest surprise was the change-driven recommendations that evolved from the discussion.
More information on this initiative may be found here:
http://www.sshrc-crsh.gc.ca/society-societe/community-communite/Imagining_Canadas_Future-Imaginer_l_avenir_du_Canada-eng.aspx
Read more of our Student Features >