New Social Cultural Monitor Position Plans Events for Graduate Students!
Graduate Studies
---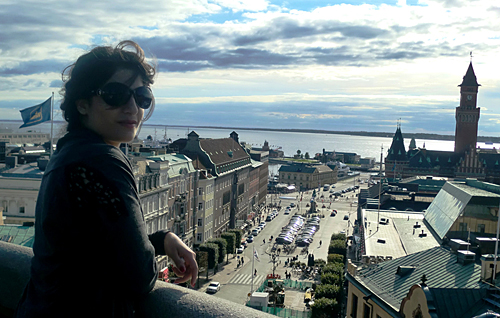 Behnaz Alimohamadisagvand
Tell us a bit about you and the program you're currently doing.
Currently I am studying Environmental Resource Development Economics master program. I received my M.A degree in Finance and Economics from Lund University in Sweden where I got to know many exchange students from different countries and I had the chance to travel a lot and visit many countries and cultures.
I am an outgoing person who works hard and studies a lot but also likes to communicate with people from different backgrounds, and hang out with them and establish interpersonal relationships. I am very interested in learning about different cultures, hobbies and languages with boundless enthusiasm and a keen eye for details and organizing social events.
What interested you in the Social Cultural Monitor Position?
I love to hang out with people and have an active social life which may sound easy but in reality for students studying graduate studies it can be hard to find time for a social life. I can feel and see that students really want to get to know the new country/city as well as other people but the pressure from education and stress makes it hard to reach out and do so. The unfortunate reality is that the pressure and stress stays in our mind and if we do not release it, the consequence is that we start to get isolated or depressed without even noticing it. Therefore I aim to help myself as well as other students to get to know each other and make a small community together which will help us to make our student life more enjoyable by sharing our experiences and happy times. Our life is about learning and this learning process is done partly at school and partly outside the school. My goal is to learn more about life outside school and help others connect with each other and all grow together.
What kind of events do you intend to plan?
We are getting close to Winnipeg winter and weather is getting supper cold. Therefore, indoor events like across the board cafe and bowling are interesting also outdoor activities like snow tubing in winter sounds like it will be so amazing. A list for our social events will be published soon.
What activities have you discovered here in Winnipeg that you would like to share with other graduate students?
Winnipeg has very beautiful nature. You just need to spend some time to go for hiking or swimming. Museums like the Human Right one which is one of the kind and is a must see. Here in Winnipeg we also benefit from a constant access to theatre, opera, festivals like Folk festivals and Jazz festivals, parks and indoor activities like trampolines. All of these activities help us to get distracted from our study time while giving us good memories.
How can students contact you with any ideas or requests?
My facebook is Behnaz University of Winnipeg. Students can add me there and message me whenever they see the need.  I encourage people to help me in this position by giving their ideas and advices.
Read more of our Student Features >