MA in Indigenous Governance student Wab Kinew wins "Canada Reads" competition
Graduate Studies
---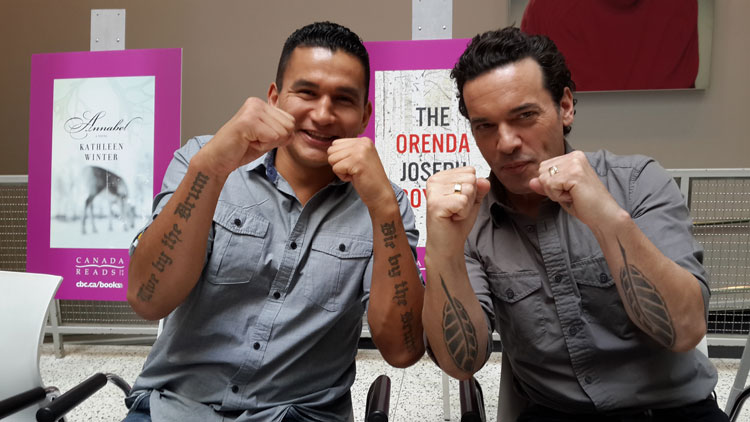 ©University of Winnipeg. Wab Kinew & Joseph Boyden. Staff Photo.
The Faculty of Graduate Studies would like to congratulate Wab Kinew, The University of Winnipeg's Director of Indigenous Inclusion, and MA in Indigenous Governance student, for his successful defense of Joseph Boyden's "The Orenda" during the Canada Reads 2014, competition. The theme of the 2014 competition asked "[w]hat is the one novel that could change Canada?"  
We asked Wab about his participation in the competition, and the importance of championing this novel, as well as how this text fit in with his values and research priorities:

"I read "The Orenda"…prior to the launch of the competition and so I knew it was the book I wanted to champion when I chose it. The book fulfills the goal of many anti-colonial scholars like Edward Said of rewriting history in a more truthful way to include the Indigenous perspective, the perspective of "the Other". So the goals of "The Orenda" are similar to decolonization and in that way they do very much match up with the Indigenous Governance program. However, reading Boyden may be even better than the readings I have to do in my course work. Maybe.
Canada Reads is a chance to champion literacy and Canadian arts, both of which are supremely important to me. What interested me most however was the fact that this was a chance to have an intelligent conversation in front of a huge national and international audience about some issues that I consider very important. From where I stand, it's been a success on all 3 fronts!
I hadn't met Joseph Boyden prior to the launch of Canada Reads. We had exchanged a few messages on Facebook, including a very touching note he sent after my Father passed away, so we were in touch. The first time we hung out was at the Canada Reads launch last fall. I could tell we were on the same page right away, what with the matching shirts and tattoos. Seriously though, we have very similar views on reconciliation, Indigenous culture and the way forward for Canada and the globe."