Kaitlyn and Nana – the new UWSA Graduate Student Co-Directors
Graduate Studies
---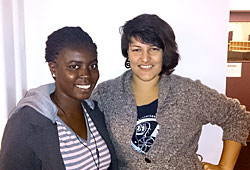 Hello! We are Kaitlyn and Nana Ama, graduate students in the Masters in Development Practice program here at the UofW. Kaitlyn is from Ottawa, where she studied Global Politics at Carleton U. Nana Ama is from Ghana, where she studied Environment and Development Studies and together, we are your Graduate Students Co-Directors on the UWSA.
We want to ensure that the UWSA is a place where the voice of graduate students can be heard loudly and clearly. Because graduate studies is so new to the UofW, we want to work towards creating better mechanisms for uniting graduate students from different programs. This could include supporting the creation of a Graduate Students Council – a forum that could facilitate regular communication among graduate students on the diverse issues facing our student body.
We have already started by organising monthly coffee breaks for all graduate students giving us the opportunity to come together to talk about issues affecting students in the various departments. We hope to further include faculty on future dates.
With Nana Ama coming in as an international student, we would also look forward to supporting the International Student Director, as well as international graduate students, in voicing their concerns to the UWSA.
We cannot wait to hear from graduate students about the kinds of concerns they would like raised at the UWSA. With us as co-directors, it is going to be a great year for graduate studies!
Read more of our Student Features >