Graduate Students Present Research at Colloquium and 3MT Competition
Graduate Studies
---
On April 9, 2014, The Faculty of Graduate Studies hosted the Sixth Annual Graduate Students Research Colloquium and the First Annual Three Minute Thesis Competition.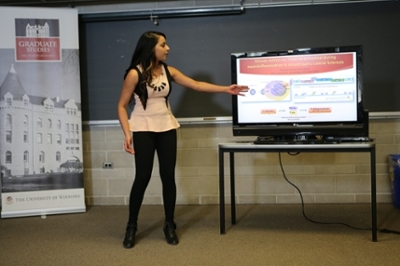 This multi-disciplinary colloquium featured research posters and presentations from a variety of graduate programs and highlighted a keynote speech from MA in Indigenous Governance alumna Jennifer Keith. Judges for the Colloquium included JMP in Religious Studies Program Co-Chair Dr. Carlos Colorado, and Canada Research Chairs Dr. Charles Wong, Dr. Jeff Martin and Dr. Christopher Wiebe.
The Faculty of Graduate Studies would like to congratulate the best oral presentation winner: Grace Paizen from the MA in Cultural Studies Program for her talk entitled: Dirty Laundry: The Dangerous Cultural Function of Fashion Advertisements. We would also like to congratulate Genevieve Berard from the BioScience, Technology & Public Policy Program for her best poster presentation on: Detection of the Heterogeneous Vegetation Cover Zone for Geocoding of Shoreline Position in Subarctic Canada using Landsat 8 Satellite Imagery.
This year also introduced the First Annual Three Minute Thesis competition; a research communication competition developed by The University of Queensland offering graduate students the opportunity to deliver a compelling presentation on their research to a non-specialist audience in three minutes or less. The student winning this competition had the opportunity to travel to the University of Calgary for the Western Competition and potentially compete in the National Competition hosted by the Canadian Association of Graduate Studies (CAGS).
Congratulations to Matthew Turnbull from the BioScience, Technology & Public Policy Program for his best Three Minute Thesis Presentation entitled: In Silico modeling of the endogenous retrovirus K protease.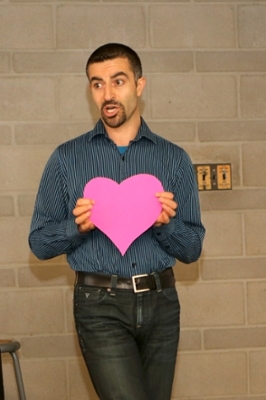 More information on these events may be found on this page: http://www.uwinnipeg.ca/graduate-studies/research/colloquium.html
Read more of our Research Features >