Program Feature – Master of Science in Applied Computer Science and Society
Graduate Studies
---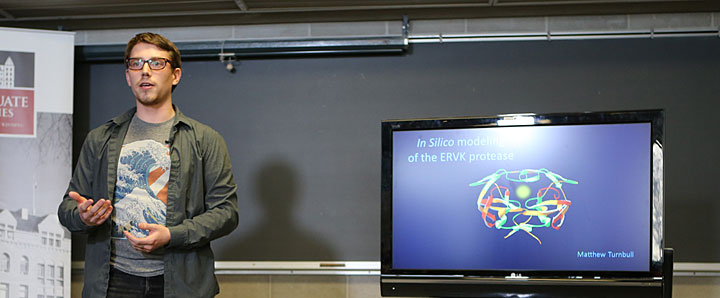 The University of Winnipeg's Masters of Science in Applied Computer Science and Society program is unique in North America. It fosters critical reflection on how technology and society interact and offers a pragmatic and applied curriculum, addressing globalization and cultural issues alongside technical instruction. Students will become applied computer scientists who can relate their technical skills to global and cultural issues and become a valuable global knowledge citizen.
The program focuses on issues of technology and human/social aspects of computing in four core areas: information representation; search and management; intelligent systems; systems development and social issues. Students may take either the thesis-based or course-based program.  The thesis-based program is designed to provide an excellent basis for a Ph.D. in computer science or other related fields. Graduates in the course-based program are well-qualified for employment in industry, the public-sector, and academia.
The program addresses the largest growing occupational needs in government, industry and non-profit sectors, building upon existing strengths in the department and facilitating research and development in the area of information and computing technologies (ICT) with Manitoba's 300 ICT companies.
The M.Sc. degree program in Applied Computer Science and Society provides an education that is integrative, applied and has an outreach focus. Specific program objectives include:
Training students to learn and apply technologies in meaningful ways for betterment of society and the communities they inhabit.
Training students in the technical process of building large software systems and introduce them to social issues that arise from the manner of systems development and usage.
Providing an in-depth understanding of real-world applications that deal with understanding, representing and manipulating imperfect knowledge.
Providing a thorough theoretical grounding for dealing with vast quantities of highly specialized data.
Offering leadership in setting policies and professional practice. 
What kind of projects to ACS students do?
Below is a sampling of ACS student thesis titles:
"Cyber Bullying Detection using Social Network Analysis."
"A Secure and Privacy-Aware Cloud-Based Architecture for Online Social Networks."
"Pulse Wave Analysis for Cardiovascular Disease Studies."
"A Scientific Approach for the Placement of Surveillance Cameras on a Bus."
"Improved Methods for Image and Video Secret Sharing."
"Emergency department Flu Alert System Enhanced by Pattern Classification to Improve the Prediction Accuracy of Influenza Like Illness."
Where Do Graduates Go?
Many ACS graduates are working in the technology sector in Manitoba which include such positions as software engineer, business intelligence data architect, web developer, database administrator, and loans manager. They are employed by Manitoba eHealth, SEED Winnipeg, the Winnipeg Real Estate Board, Buhler Industries, Protegra Business Solutions and Princess Auto Limited.
Click here for more program features.