Program Feature - Joint Masters Program in Religion
Graduate Studies
---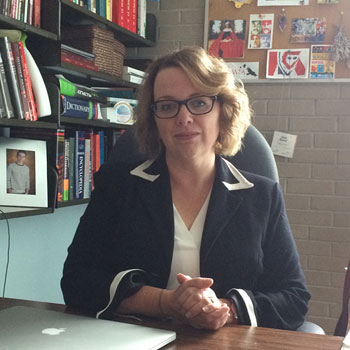 The Faculty of Graduate Studies recently connected with MA in Religion Program Chair, Dr. Jane Barter to talk about news in her program.
Can you give us a brief overview of the Program and what makes it unique from other programs in the country?
The JMP in Religion prepares students to undertake advanced study in the interdisciplinary field of religious studies. There are two streams within the JMP in Religion: the Thesis MA and the Course MA.
The program is unique in that it combines the research and teaching strengths of two universities: The University of Winnipeg and The University of Manitoba. Together, the teaching and supervising cohort of professors rivals any of the larger graduate schools such as Toronto or McGill.  Faculty also represents a broad array of teaching areas, covering major world religions and Indigenous traditions. Theoretical, historical and textual approaches to the study of Religion are also represented in our program.
What is the focus of the program?
The focus is the interdisciplinary study of Religion.  Within that broad spectrum, students will take courses in methodology and courses germane to their specific area of study, such as East Asian Religions or Religion and the Public Sphere.
Recent theses have included:
"Out of Sight, Out of Mind: The Role of the Body in Canada's Religious Identity," a thesis that looked at questions of bodily presentation (such as the veil) in the negotiation of religion in Canada.  (Bethany Berard)
"A Comprehensive Analysis of the Discourse Between Human Rights Theory and the Chinese Confucian Intellectual Tradition." (Timothy Johnson)
What do graduates do when they leave the University of Winnipeg?
A recent graduate, Bethany Berard, just began her PhD program at Carleton University in Communication and Political Economy. Some go on to do their PhDs in Religion or related fields. Others go on to work in the public sector.
Any success stories you are most especially proud of about the program or the students that you would to share?
I like that our graduates are seeking to use the MA in a variety of ways, not just for academic work.  Tim Johnson (MA 2013), for example, works as a Policy Analyst in the Policy Management and Legislative Affairs Secretariat to the Executive Council of Manitoba. The multi-disciplinary approach and critical analysis skills that the JMP program offers now helps Tim navigate complex political, social and policy issues in order to provide advice and strategic support to Cabinet Ministers on a variety of topics.
We also felt a great sense of accomplishment at the level of external and internal funding our students have been able to receive. Our students have won prestigious awards such as SSHRCs and Manitoba Graduate Scholarships. These awards are highly competitive, and our program has been very well represented among the winners.
Click here for more program features.