MSc in Bioscience, Technology, and Public Policy graduate Gurman Grewal discusses his thesis research and experience as a graduate student
Graduate Studies
---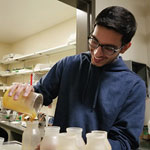 The Faculty of Graduate Studies would like to congratulate Gurman Grewal who successfully defended his thesis titled "The Role of Candidate Genes within a Mapped Genome Region on Sperm Competition" with distinction. Recently, we caught up with Gurman to discuss their thesis and experience in the graduate program.
Can you tell us about yourself and what interested you in the Masters of Science in Bioscience, Technology, and Public Policy?
I graduated with a BSc (Hons) in Biochemistry from The University of Winnipeg. During my undergraduate studies, I did my honours project under the supervision of Dr. Alberto Civetta. I wanted to continue the work I had started during my honours project which led to my enrolment in the Masters of Science in Bioscience, Technology, and Public Policy program.
What was your thesis research topic?
Evolutionarily, individuals with the ability to outcompete others for successful fertilization have greater fitness. My research focused on identification of genes in Drosophila melanogaster (fruit fly) which affect sperm competitive ability. Knowledge of genes that influence sperm competition within and across species can be used to establish a genetic link between reproductive adaptations and speciation.
What inspired you to pursue an interest in this area?
As a kid I had always been interested in science which is why I pursued a BSc in Biochemistry. During my studies I was always fascinated by the genetics and cell biology courses I took and decided that I wanted to continue work in the field. As a result, I worked in Dr. Alberto Civetta's lab which focuses on evolutionary genetics of reproductive traits.
What would be the next steps if you or another researcher were to continue with your work on this topic?
My research identified several genes which affect sperm competitive ability. However, not a lot is known about these genes in relation to their sperm development/function. Identifying the underlying causes which altered the male's competitive ability would be a priority.
What are your future plans after completing your Master's degree?
In the short term, I intend to complete a few remaining aspects of my project which could provide an explanation for some of the more puzzling results I observed. I will also be assisting on another project currently being conducted in the lab for the next few months. Beyond that, I would like to travel and eventually find work in the field.
Thank you and good luck on your next project!
To read more research features, please click here.