MSC Applied Computer Science Student Oluwayemisi Olugboji competes in the Regional 3MT Competition
Graduate Studies
---
The Faculty of Graduate Studies would like to congratulate our Queen Elizabeth Scholar, Oluwayemisi Olugboji to hear about his recent participate at the Western Regional Three Minute Thesis Competition. Olu won the University of Winnipeg 3MT in April, qualifying him to travel to Kelowna, BC for the next level of the competition.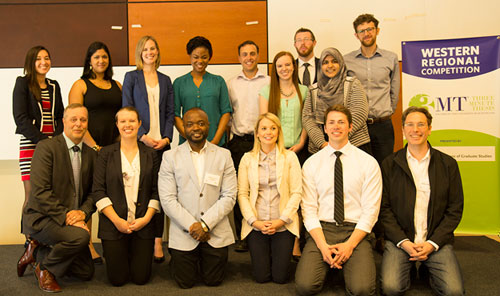 Can you tell us about your current graduate program and research focus?
I am currently in the Applied Computer Science and Society MSc Program. My research area deals with the Application of Systems and Complexity Sciences into health systems. In other words, I try to solve healthcare problems using available biological data. My research focus is in the Prognosis and Diagnosis of Chronic Kidney Disease Using Knowledge Based Mining.
Congratulations on being selected to participate in the Western Regional Three Minute Thesis Competition! Can you tell us about your journey at the local and regional level?
It was challenging at both levels but more challenging at the Regionals. It took a lot of time and practice to narrow down my thesis and make it meaningful to non-academic audiences within 3 minutes. There were many brilliant Ideas and presentations that it took a lot of time for the judges at both levels to make their final decision.
Did you have a chance to connect or socialize with any other students at the Western Regionals?
I did connect with over twelve students from other schools. There was a luncheon/medals presentation before the competition started and it was interesting to hear about each person's research topic and future plans. A reception followed the competition and I had an opportunity to connect with people from the IT industry who showed interest in my research and were eager to contact my supervisor.
There were some PhD presenters, was that intimidating?
It wasn't intimidating. I met some PhD students during the luncheon and thought how difficult it must be to communicate the key concepts of their research within the same time period with master's students. Given that their research is vaster, I saw it as their disadvantage- not mine
What was your take away from both the local and regional competition?
There were lots of lessons learned. Apart from eloquence, one needs to be able to capture the audience's attention using every other means possible especially using a picture. It is not all about you and how brilliant your ideas are. It's about the audience and the judges. All the judges' and audience's favorites had an emotional picture in their presentation slides which I realized was a major factor in their decisions. I also received prizes at both the local and regional levels.
Do you know what you will do after you graduate from University of Winnipeg?
I have seen the way data is organized in this part of the world and I have the yearning of applying the same in Nigeria where I come from. My last hospital visit in Nigeria was in 2008 and the records are either in a filing cabinet or already discarded. Any future hospital visit means the doctor has to start from square one. As a developing country, I believe the first step in improving the healthcare system is to organize and centralize medical data. This will help stakeholders better visualize and understand healthcare problems in developing countries.
Photo by Tessa Wynn
For more information on the Queen Elizabeth II Diamond Jubilee Scholarships Program, please check: http://www.uwinnipeg.ca/graduate-studies/scholarships-and-awards/internal-awards.html.
Click here for more student features.