MDP Students attend Model Arctic Council
Graduate Studies
---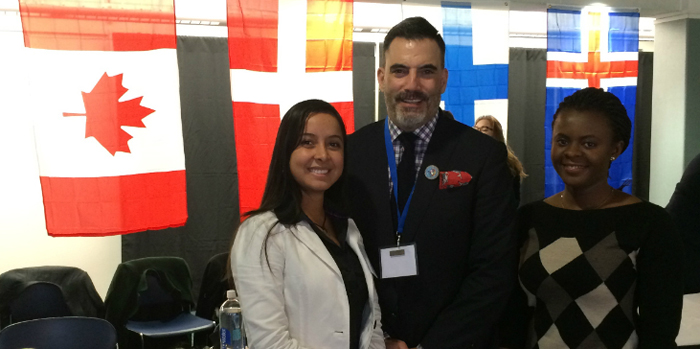 (L-R) Gabriela Jimenez, Stephen Penner and Nana Araba Asaam
The Arctic conjures up images of polar bears, white foxes, beluga whales, and also the issue of climate change. The most northern part of our world, it is home to millions of people and amazing wildlife. Three UWinnipeg Master's in Development Practice MDP) students, Nana Araba Asaam, Gabriela Jimenez, and Stephen Penner, have returned from attending the Arctic Science Summit at the University of Alaska Fairbanks (UAF) where the future of the Arctic was discussed. This 10-day international Model Arctic Council (MAC) provided students and academics with a platform to share their research and vision for the future of the Arctic, including an Indigenous perspective. The students were selected from more than 100 applications from around the world.
"The diversity of students reflects the makeup of the Arctic Council, which operates through collaboration and consensus," said UAF Arctic and Northern Studies Program Director Mary Ehrlander. "MAC helps college students learn about the process by discussing the problems it seeks to resolve."
The MDP perspective:
"The MAC program is an experiential learning exercise that has improved my general knowledge about the Arctic Council and various issues and challenges facing the Arctic region. Performing a role as a delegate to the Arctic Council, interacting with other students and faculty members from diverse backgrounds has helped me to internalize and appreciate the work of the Arctic Council and as well gained valuable knowledge, negotiating, problem solving and leadership skills. I would strongly recommend the MAC to other students".–Nana Araba Asaam, MDP student
"MAC was an excellent opportunity to learn and practice international diplomacy. It was very inspiring to see how Indigenous culture and perspectives are being considered in the discussions about the Arctic's issues and solutions. This experiential learning is invaluable for my career as a development practitioner." –Gabriela Jimenez, MDP student
"MAC called on all of our MDP teachings and experiences. We used the broad range of what we have learned to represent Indigenous Peoples as allies. It was a global, experiential, and transformative learning experience that I was so proud to have attended on behalf of the MDP program and UWinnipeg." –Stephen Penner, MDP student
"Participating in the experiential learning opportunity presented by the MAC was a tremendous opportunity for our students. Together with students from across the Arctic and around the world, our MDP students engaged in a very real way with critical issues in the Arctic, simulating the complex work of an organization at the forefront of centering Indigenous knowledge and experience in critical issues facing the North." –Claire Reid, Director, MDP
Congratulations Gabriela, Nana Araba and Stephen!
Article by Naniece Ibrahim (n.ibrahim@uwinnipeg.ca)