Mariana Muñoz Gomez shares how the Curatorial Practices Graduate Program has Impacted their Artistic and Academic Work
Graduate Studies
---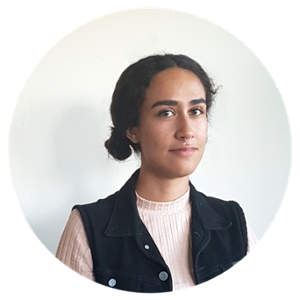 Mariana Muñoz Gomez is a Master of Arts graduate student in the Curatorial Practices program. In addition, she is an artist, writer, curator, and a member of many artist and curatorial collectives. Recently, the Faculty of Graduate Studies caught up with Mariana to discuss their experience within the program.
What interested you in the Curatorial Practices program?
I was interested in the cultural studies focus in the University of Winnipeg's Curatorial Practices program, and applying this to my overall creative practice. 
Can you tell us a bit about your research focus?
I am interested in the anti-colonial potential of contemporary art within post- and settler colonial contexts.
In 2019, you co-curated an exhibition with Dr. Candida Rifkind titled "Architecture+Comics: Canadian Cartoonists and the City Exhibit". The exhibit showcased how a variety of graphic storytellers expressed their own visual style in representing cities, streets, and buildings.
How was your experience curating this event and what was your main research interest in exploring the relationship between graphic artists and architecture?
Other curatorial projects I had done to that time had been based on proposals I initiated or work within a collective. It was a new experience to work with Dr. Rifkind as her research assistant, co-curating this exhibition within a given framework. I love graphic novels, so it was great to get introduced to a number of ones I was unfamiliar with prior to the curatorial research for this show! Within the number of themes we came to at the end of the process, I was also interested in determining if there was a correlation between the author's or artist's positionality and their depiction of the environment within the story.
You have also contributed to Winnipeg's art scene, both as an artist and an organizer. In March 2019, Platform centre for the photographic + digital arts exhibited your work in  "Recorrer, to wander". Likewise, you have worked with many Winnipeg art organizations such as Flux Gallery and Mentoring Artists for Women's art (MAWA).
How has the curatorial practices program informed your continued work in Winnipeg's art community, both as an artist and curator?
​Taking part in the Curatorial Practices program within the Cultural Studies field has allowed me to focus on questions about art that have been developing for me over the past number of years, especially after finishing my undergraduate degree in fine art. The opportunities I've had for some self-directed research within the program have allowed me to engage more deeply in analyzing the importance of art and creative work in shifting consciousness and narratives. The program has also enabled me to better understand the structure of colonialism within the art historical canon. Through my academic research and creative work, I strive to learn more about the power structures I live within and to share that knowledge with those around me.
Congratulations on being selected to participate in the upcoming 3-Minute Thesis competition!
What is the topic of your presentation?

The presentation I will be sharing is based on a research paper I wrote for one of my courses last year along with some new things I've been learning in the Curatorial Practicum class this year. The presentation will focus on defining the term "decolonizing" and analyzing two pieces of art to understand art's potential within anti- and decolonial movements.
What are you most looking forward to once you have completed your degree?
Continuing to learn outside of the classroom!
Thank you! And good luck on the 3-Minute Thesis Competition!
For more Student Features, please visit here.