Indigenous Governance student Kwabena Kesseh discusses his thesis research: The Impact of Oil Production on Traditional Livelihood
Graduate Studies
---
The Faculty of Graduate Studies would like to congratulate Kwabena Kesseh who successfully defended his thesis titled "The Impact of Oil Production on Traditional Livelihood: The Case of Fanti People in Shama in the Western Region of Ghana" with distinction. Recently, we caught up with Kwabena to discuss their thesis and experience in the graduate program.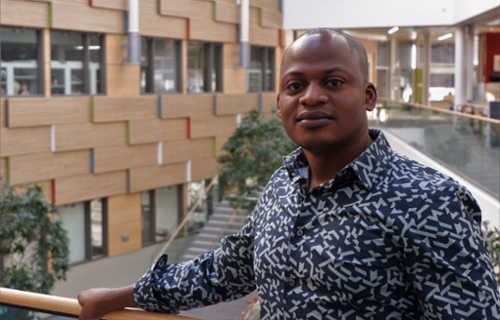 Can you tell us about yourself, your educational background, and why you enrolled in the Master of Arts in Indigenous Governance (MAIG) program at the University of Winnipeg?
My name is Kwabena Kesseh and I am Married to Gloria Odartei. We have a 12 month old baby boy called Nana Boateng. I come from Agona in the Ashanti region of Ghana-West Africa and I belong to the Ashanti tribe. I attended Opoku Ware High school and graduated from the University of Ghana-legon in 2008 where I studied Political Science and Psychology (combined major).
After graduating from the University of Ghana, I worked with the Ministry of Local Government and Rural Development (MLRD). The purpose of the Ministry is to extend governance to the grassroots and ensure rural participation in decision-making. Working with the ministry in the western region exposed me to a lot of tribal people and the challenges they face in modern Ghana. After working with the ministry for 2 years, I decided to pursue my master's program in a field that would expose me to how decisions affecting local, tribal and Indigenous people in Canada are made, and to learn from effective policies affecting Indigenous and tribal people in different parts of the world. I loved the fact that the MAIG program had an international focus and that I was able to tell my story from my community's perspective while acquiring the skill and ability to change and influence policy.
Can you tell us about the program and your research focus?
The MAIG program is multi-dimensional. I felt I was getting equipped in matters of Indigenous development, governance and policy. When we discussed issues in class, we did not only focus on Canada, but we compared issues, policies, initiatives from North America, Latin America, Africa and other parts of the world drawing on experiences and best practices that make a well rounded, internationally adaptable and proficient student.
My research focus was to examine the impact of oil and gas activities on the traditional livelihood of Shama, an Indigenous coastal town located 20 kilometers east of Takoradi where the majority of oil and gas development activities in Ghana take place. The study focused on the Fanti people in Shama who are predominantly fishers engaged in deep sea fishing where developers have built oil and gas installations. The main objective was to understand how the people of Shama pursued their livelihood prior to oil development and how their livelihood has been impacted since the emergence of the oil and gas industry. I focused on the Fanti peoples' traditional fish-based livelihood and its interconnections with their spirituality, family and social interactions.
Recently, you defended your thesis titled "The Impact of Oil Production on Traditional Livelihood: The case of Fanti People in Shama in the Western Region of Ghana". What was the highlight of your thesis research for you?
Four highlights were:
A culturally relevant framework was developed for the study which I felt other researchers may find useful when embarking on similar or closely related studies in other Indigenous cultures.

The result showed that the oil and gas industry has had a negative impact on traditional fishing in Shama. It has posed a great threat to their livelihood and affected their incomes, social interactions and spirituality.

For the Fanti people in Shama, living in the coastline in the Western region of Ghana, fishing and the relationship to the sea has been their main livelihood and constitutes a material base for their culture. UNDRIP may not constitute an international law and may not be legally binding; however, the study indicated that the Ghanaian Government should take responsibility to act within the spirit of the Declaration and ensure that these fundamental rights of Indigenous people are secured.

The study showed that Fanti people had in-depth traditional experiential knowledge in fishing. It is recommended that Indigenous perspective, their knowledge and experiences must have thoughtful considerations in oil resource management decisions in Ghana.
You received a scholarship from the Queen Elizabeth Scholars program, can you tell us what role that funding played in your graduate research?
The peace of focusing on your studies and not worrying where the next tuition fees, rent or next meal will be coming from is phenomenal. I also built relationships with other scholars which will continue even after graduate studies. I was able to do what I felt I could to help my community, which is having the funds to travel to Africa and back; to conduct my research without compromising on quality, methodology, and maintaining relationship with my community. I don't know how I could have effectively completed this research without the funding.

What are you going to take away from your experience at University of Winnipeg?
My graduate experience at the University of Winnipeg was loving. I enjoyed the close-knit student faculty relationship at my faculty which provided a source of help ranging from academic and even non-academic issues. I enjoyed elders who are provided space within the various departments of the University of Winnipeg to share knowledge, experiences and wisdom which prepares students for real life situations. The availability of awards and scholarships, sense of community, and the joint departmental lectures were awesome. I am inspired to bring about a positive change in any place I will find myself.
Click here for more student features.