MA in Cultural Studies Alumna Tracey Turner talks about her work with Fort la Reine Museum
Graduate Studies
---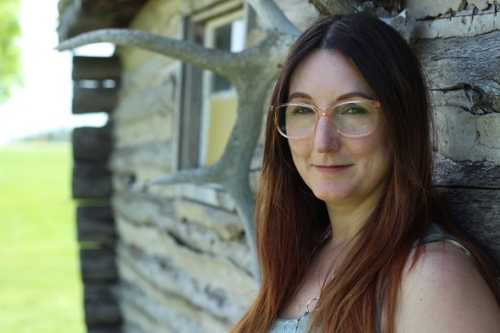 The Faculty of Graduate Studies caught up with 2012 Master's of Arts in Cultural Studies: Curatorial Practices alumna, Tracey Turner, to hear about her work as the Executive Director and Curator of the Fort la Reine Museum.
What experiences with the Cultural Studies program prepared you for your work at Fort la Reine Museum?
In many ways, much of the work in the Cultural Studies program enhanced my work as a Consultant and Director with the Fort la Reine Museum. I was initially attracted to the idea of deepening my work practice as a museum curator, and the Curatorial Practices program had an interesting balance of both practicum and theory, which suited my academic sensibilities and professional needs. Working as a director and creator for a museum can be very demanding. It requires you to walk between realms of primary research, ethics, marketing, content creation, grant writing, event planning, board meetings, media work, capacity building, facility management, and artistic expression. This field and profession requires an eclectic toolkit, and the Curatorial Practices program allowed me to learn from very experienced experts in their field, such as Dr. Stephen Borys and Pat Bovey. I adored the History of Museums and Collecting course, as it helped me develop a historical perspective on museums and their evolution through time that I could bring back to my museum practice on a daily basis. One aspect of the practicum requirement of my degree had me writing endless press releases for all types of exhibitions. I can laugh about this now, but this exhaustive exercise left me with the ability to write a fabulous, engaging, and concise press release in under twenty minutes. It's a skill that is so useful for me now!
How did you come up with Mystery at the Museum and how has the program changed since it started?
In 2011 I conceived of Mystery at the Museum to be offered as part of the Museum's programs in my first year as Manager and Curator. I envisioned Mystery at the Museum to be a theatrical project and vehicle for visitors to engage with the Museum, its artifacts, history, and local legends. For our first Mystery at the Museum, I connected with the producer of a local theatre group, "Prairie Players", and developed "Legend of a Ghost Town", a live, theatrical evening tour that was acted out on the Fort la Reine Museum's grounds and galleries. Mystery at the Museum stories are set in the fall, at the magical time of the Autumn Equinox, and have a historical theme and setting based in a fictional version of "Bloom" Manitoba (designated by the Manitoba Historical Society as a Ghost Town), which was located very near Portage la Prairie. In its sixth year, the popularity of Mystery at the Museum is impressive. One can imagine our thrill at turning away 200 people on a Saturday night.
Increasingly Mystery at the Museum has become less improvised and more play script and content driven. As a result of our collaboration with Black Kite Entertainment (a collective of theatre and film creators), both Farm House Horror (2015) and Case of the Murder Oak (2016) could stand alone as fully adaptable stage plays. This year, the Mystery featured a short film noir that was shot on location at the museum. During the performance, characters transformed from being onscreen to being live in front of the audience. By using the grounds and the historical buildings of the Fort la Reine Museum as original sets, we elevated peoples' attention to the largest artifacts in our collection, the buildings themselves. The lead character took audiences on an outdoor guided evening tour of the Museum. On their journey, they encountered characters who delivered monologues and scenes, telling a story that involved the audience acting as a jury, giving them the power to choose which character was guilty in the end. Audiences were left wondering if they have made the right decision. "Was the right person accused?" "Was the wrong man hung?" Case of the Murder Oak led participants on a tale of intrigue, where they discovered a historic capital punishment that happened in Manitoba and took part in a criminal investigation, for an evening of entertainment and speculation.
The Museum has sold out the show five years in a row and in response to the popularity of the show, the Fort la Reine Museum added six more shows. This year's cast included actors from Winnipeg, local Prairie Players, and Fort la Reine Museum's interpretive staff and volunteer technical crew. I am constantly inspired by Thomas Hoving, who said, "Great art should be shown with great excitement", and I try to incorporate this into my museum practice and programming. For a moment in time, you can create a spectacle, and craft a memorable experience, leaving an impression on the collective community that endures beyond the experience.
Do you have any upcoming projects that you can tell us about?
Currently I have multiple projects underway and am delighted to share a few details on them here.
I have begun project development on "The Story of Manitoba", a new interactive drama based on the history of our province, specifically the role of Portage la Prairie, and the Republic of Manitoba. This live play will be offered at the Fort la Reine Museum as a permanent program with performances throughout the tourism seasons. A touring cast of this production will perform at other venues once this production onsite has been created.
We will begin working on the development of a new Mystery at the Museum for premiere in 2017, so stay tuned for press releases on the storyline. We are also developing tours for our Mystery at the Museum cast to perform in other cultural venues.
I am currently researching the history and original site of Fort la Reine, through archaeological work, interviews, and archival research, and developing my PhD thesis prospectus with content to be later developed into a permanent exhibit for the Fort la Reine Museum in the future. I am engaged in project managing 300K in ongoing infrastructure upgrades to commemorate Canada's 150th with restoration and facility improvements at the Fort la Reine Museum.
I am capacity building for the Fort la Reine Museum's capital campaign that was launched in June to raise 2 million dollars to fundraise for the new concept design of a Visitor's Centre at the Fort la Reine Museum.
To Commemorate Canada's 150th and Fort la Reine Museum's 50th, I am currently developing content for a "Founders Walk" an interpretive outdoor path of didactic interpretive panels that tell the story artistically of the founding collections of the Museum and the story of Fort la Reine. There will be digital links incorporated to develop optional future content.
I am currently writing a social media and marketing for museums course syllabus, and doing consulting work helping creatives access their markets with social media. I have shared some of these teachings with Cultural Studies graduate students at the University of Winnipeg, the Organization of Military Museums National Conference 2016, and as a panelist with the Manitoba Chamber of Commerce AGM in 2016.
Any advice for incoming graduate students?
My advice for incoming students would be to really dig into the program and utilize it to play, go deep, and create content that you're inspired by and want to learn about. Challenge yourself, make the program what you need it to be, and take advantage of the talented faculty to gain knowledge and feedback from.
Follow Fort la Reine Museum on Facebook,Twitter, and Instagram, and visit their website at www.fortlareinemuseum.com
Photo above: Tracey Turner, Photo Credit: Miranda Moroz
Visit here for more alumni features.