Getting to know Dr. Lloyd Kornelsen - Graduate Program Chair, Peace and Conflict Studies
Graduate Studies
---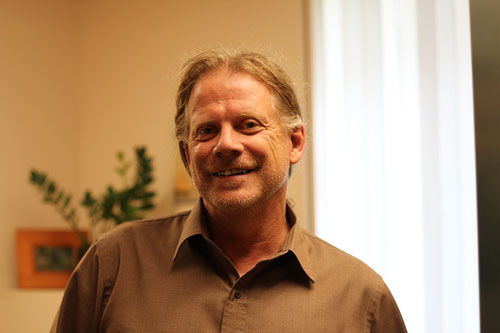 The Faculty of Graduate Studies recently connected with the Peace and Conflict Studies Program Chair Dr. Lloyd Kornelsen to talk about his thoughts on the program and his research.
Can you tell us about your academic background?
I have a BEd from the University of Manitoba, a MAdEd (Master of Adult Education) from St. Francis Xavier University, and a PhD in Education (Peace and Conflict Studies) from the University of Manitoba. I also studied theology for two years at Providence College. I have worked at UW for almost 30 years, in a variety of teaching and administrative capacities – mostly for The Collegiate, Faculty of Education, Global College, and PACE. During that time, for many years, I also served as a conflict/mediation consultant with a range of local, national, and international organizations.
What is your area of research interest? What are you currently working on?
Two areas mostly. First, I am interested in exploring the intersection of experiential learning, international practicums, and global citizenship. Two years ago I wrote a book that explored the pedagogy of experiential learning in the context of a particular global citizenship practicum, examining the contested notion of world citizenship and its most affecting pedagogies. Research for the book pointed to a critical question at the heart of global citizenship education: Is it possible to cultivate perspectives that are critical and curious at once, ones that appeal to a universal sense of justice and simultaneously respect cultural diversity and difference? And if so, how might one so do? For the past two years, these two questions have animated academic audiences at education conferences from Washington to Krakow. Currently I am working on two related research projects with the UW Faculty of Education practicum program in Thailand.
Second, I am interested in looking at how teaching experience informs, advances, and nuances questions that concern scholars of social studies education and government policy makers. Currently, with support from the Manitoba Education Research Network and Manitoba Education and Advanced Learning, I am working with a colleague from UM and a group of high school social studies teachers on exploring that question.
What do you most enjoy about the Peace and Conflict Studies program?
The incredible diversity of our students. This year for example, we accepted applicants from places like Morocco, Kosovo, Ukraine, China, Brazil, (and Canada of course), representing academic disciplines from human rights to sociology to international relations to education. Seeing how this breadth of interest in, and diversity of perspective on, Peace and Conflict Studies necessarily expands our knowledge and enriches our understanding of peace and conflict.
After a year of being Graduate Associate Chair in the Joint PACS Masters Program, can you tell us about your vision for PACS?
I am an anomalous position in that I was appointed Associate Chair (Acting) for one year – but this probably allows for a unique perspective. Three things I have come to see about PACS that I think underlie a future vision: 1. Recognizing the work and leadership of those individuals who established a partnership with UM and co-developed a graduate program that has global reach and reputation. 2. Coming to know, in working with colleagues at the Arthur Mauro Centre for Peace and Justice (UM) and the larger peace and conflict academic community, the breadth and depth of peace studies scholarship in Winnipeg – one in which UW plays an integral role. 3. Realizing, from the diversity of academic disciplines represented by our students, that the wider UW academic community has much to offer PACS students as our students seek to integrate previous academic work with current pursuits in Peace and Conflict Studies.
What would you say is your favourite thing about the University of Winnipeg?
Having been here for a long time and worked with many people in many areas of the university – and I know this sounds cliché – it is our dynamic learning community. It has a lot to do, I think, with UW having a relatively small campus with an incredibly diverse student population, in a downtown location. It also has to do with a community that renews itself every year, all year, but retains a strong sense of social responsibility and local identity – not to mention some of the most interesting, thoughtful, and provocative people I know.