Melanie Martin works with Graduate Students on Alzheimer's Research.
Graduate Studies
---
The Faculty of Graduate Studies recently connected with Dr. Melanie Martin, Associate Professor in the Department of Physics and 2013 Chancellor's Research Chair, to get some updates on her research and supervision in Graduate Studies in the BioScience, Technology and Public Policy MSc program.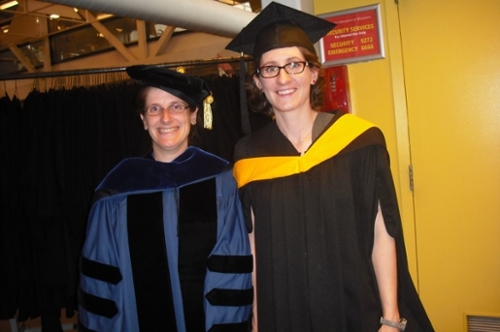 What have you been working on with your graduate students?
My graduate students and I are working to develop and assess magnetic resonance imaging (MRI) methods to diagnose, monitor and understand central nervous system diseases such as Alzheimer's disease, multiple sclerosis, stroke and schizophrenia.
How does this tie in to your other research?
My students work toward research goals we set together with the focus of developing MRI methods. Their research is directly connected to what we are all working on.
What led you to be interested in Alzheimer's research?
What led me to be interested in developing new MRI techniques was my fascination with non-invasive imaging methods. I think it is fascinating that MRI can see the inside of my body without harming me in any way. We are working toward being able to obtain information about smaller and smaller structures within the body.
Is it challenging working in a multidisciplinary field?
I enjoy using physics, biology, and chemistry in my research. With so many fields, I am constantly learning new facts and skills. My students enjoy the multidisciplinary work as well. In addition to their major, they learn about the other fields as well. The Biology graduates, for instance, learn a lot about biology and also graduate with some knowledge in the other fields like the physics behind MRI.
To learn more about Dr. Martin's work, you can visit her website at: http://mri.uwinnipeg.ca/home.htm
Photo above: Dr. Melanie Martin and MSc in BioScience, Technology and Public Policy Alumna Kerrie Hayes.
Read more of our Faculty and Staff Features >