MA in Economics Graduate Interns at the United Nations in Vienna
Graduate Studies
---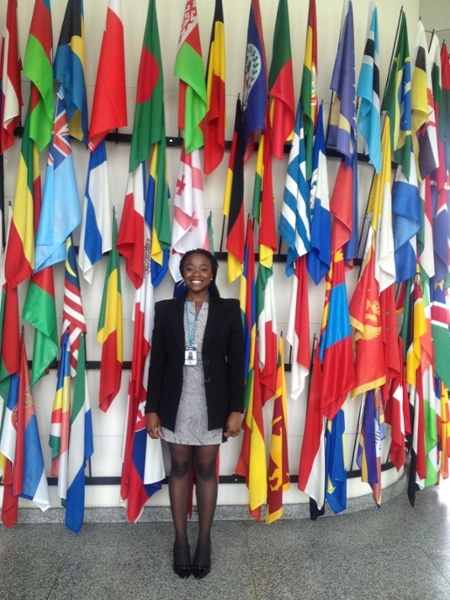 MA in Economics Graduate, Christi-Anna Durodola, Interns at the United Nations in Vienna
Tell us about the program you are graduating from.

I completed the Environmental, Resource and Development Economics (ERDE) master's program at the University of Winnipeg in June 2014. The ERDE is comprehensive, challenging and offers in-depth understanding of environment and sustainable development issues around the world and how to analyze them. Attending this program has given me better research skills, stronger econometric analysis skills and a deeper understanding of the global challenge of sustainable development. I have learned how to ask the right questions, analyze, and suggest solutions for sustainable development.
My research interests are macroeconomics, environmental and economic development in Nigeria, Africa and around the world. I chose the research stream of the ERDE program, and my research project was on Understanding Total factor productivity (TFP) of Nigeria's economy from 1970 to 2010.
You are currently doing an internship in Vienna, how did you learn about this internship opportunity?
It was through my research project that I found out about the United Nations Industrial Organization (UNIDO) as most of my research built on a UNIDO working paper on total factor productivity. I had a very supportive supervisor that encouraged me to apply for internship positions with international organizations from the onset. I am interested in how international organizations work and how they go about achieving the Millennium Development Goals (MDGs). I applied to intern with UNIDO and got accepted and with support from the Faculty of Graduate Studies and the Economics Department, I was able to come to intern at UNIDO, In Vienna, Austria. 
What does this internship entail?
I am interning in the Program and Technical Division of the Environment Management Branch, in the Stockholm Convention Unit (SCU). This three-month internship is from April 1, 2014 to June 27, 2014. UNIDO is the specialized agency of the United Nations that promotes industrial development for poverty reduction, inclusive globalization and environmental sustainability. The Program Development and Technical Cooperation Division is responsible for providing analytical, advisory and resource mobilization support, and strategic advice to policy makers at national and regional levels.
The SCU is responsible for implementing the Stockholm Convention, the global treaty to protect human health and the environment from persistent organic pollutants (POPs). I have been conducting research on issues relevant to projects in member countries for the Environment Management Branch Stockholm unit, specifically in West Africa and presenting research results. Amongst other responsibilities, developing Key Performance Indicators (KPIs) for the SCU projects and revising the project report documents, I assist with reviewing project proposals and filling out project documents for new and pipeline projects as well as liaising with stakeholders and project participants. Most of my time has been spent on researching on a sound solid waste management solution in Nigeria, which I would present at the end of this internship.      
Interning at UNIDO has given me the opportunity to observe and participate in global solutions for sustainable development, meet and network with colleagues and delegates from around the world, and I have also acquired more knowledge about development issues and clarity on where and how I may contribute to achieving global sustainable development.
What are your plans for after the internship is completed?
After my internship is completed, I plan to work in an international organization and continue to contribute to global development especially in Africa.
What was the best part of the ERDE program for you?
 The best part of the ERDE program was doing my research project as it gave me the opportunity to think critically and test my questions. My supervisor was very supportive and taught me a lot. I enjoyed the small class size and discussing ideas with my colleagues and teachers. I like that the program gives you an opportunity to take elective course in other master's programs, my electives in the politics department and development practice gave me a broader view of issues beyond economics.
Read more of our Alumni Features >