Saad Khan
Contract Faculty
---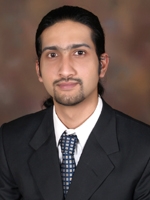 Saad Khan is a former international human rights lawyer and a current student in the Joint Masters Program in Peace and Conflict Studies offered by the University of Winnipeg and University of Manitoba.
Saad's research focuses on issues of gender, conflict and identity and the ways through which individuals can empower themselves during and post violent conflict. Saad's area of expertise includes designing hybrid systems for post-peace accord societies. He is also interested in examining the perceptions of immigrants about the relationship between their host countries and their parent countries.
 Before moving to Winnipeg, Saad was the founder and chief mediator of Forum for Dispute Resolution Pakistan and practiced constitutional, refugee and international human rights law.
He received an LLM in international human rights law from the Georgetown University Law Centre and an LLB from the University of Karachi.
Email: sa.khan@uwinnipeg.ca