Dr. Lorena Fontaine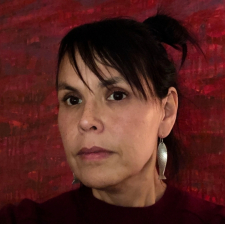 Lorena Fontaine, PhD
Associate Professor
Email: l.fontaine@uwinnipeg.ca  
Office: 2MS08
Lorena Sekwan Fontaine (BA, LLB, LLM, PhD) is Cree - Anishinaabe and a member of the Sagkeeng First Nation in Manitoba, Canada. Dr. Fontaine is Co-Director of the Indigenous Languages Program and an Associate Professor in Human Rights at the University of Winnipeg. She has taught for the First Nations University of Canada and the School of Public Policy Graduate Program at Queens University. Her research includes the legacy of the boarding schools, cultural genocide, and Indigenous language rights.
Currently Dr. Fontaine is the Fulbright Canada Research Chair at San Diego State University.
Dr. Fontaine has spoken nationally and internationally and has authored articles on residential school issues and Indigenous language rights in Canada. Her research was presented in a CBC documentary entitled "Undoing Linguicide" which was awarded the 2017 Radio Television Digital News Association Adrienne Clarkson Award for Diversity, Radio and Network.
Recently, she was a co-organizer of an educational forum on the legacy of the residential schools and the Holocaust with the United States Holocaust Memorial Museum.
Since 2003, Dr. Fontaine has been an advocate for Indigenous Residential School Survivors as well as their descendants. She was a task force member and contributor to the Assembly of First Nation's Report on Canada's Dispute Resolution Plan to compensate for abuses in Indian Residential Schools. Dr. Fontaine also acted as a legal consultant to the Toronto law firm Thomson, Rogers in a National Class Action on Indigenous Residential schools.
Dr. Fontaine was an Equality Rights Panel member for the Court Challenges Program and a National Steering Committee Member for the National Association of Women and the Law. She has also been involved with the Women's Legal Education and Action fund as a board member and subcommittee member.