Lloyd Kornelsen, PhD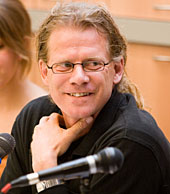 Member, Faculty of Education (UW)
Director, Global Issues Education Project
Executive Director of Global College (Acting),
Director of Human Rights Degree Program
Program Coordinator, Practicum Courses
Office: 1G03A (Graham Hall); 2MS09 (Menno Simons College building)
Phone: 204.988.7532; 204.786.7532
Email: l.kornelsen@uwinnipeg.ca


Lloyd Kornelsen has served Global College in a variety of capacities since 2007 – including executive director (acting), curriculum committee co-chair, program consultant, and course instructor. Currently he is the director of the Global Issues Education Project, teaches Introduction to Global Citizenship, and coordinates the Human Rights Practicum Course.
He played an instrumental role in developing and implementing the Human Rights degree (2007-2014). His primary concern throughout that odyssey – whether consulting colleagues locally and nationally or writing human rights/global studies based curricula – was providing a curricular bridge between high school and university programs, particularly for students interested in learning about democratic citizenship in a globalizing world.
In 2013 he was awarded the Manitoba Education Research Network award for his outstanding achievement in education research in exploring the intersection of experiential learning, international practicums, and global citizenship. Recently, his work has taken him to Costa Rica, Guatemala, India, and Thailand. His soon to be published book, Stories of transformation: Memories of a global citizenship practicum, examines the meaning of global citizenship and its most affecting pedagogies.
Prior to coming to Global College, he was a high school teacher and administrator. In addition, for many years he was an adult educator and corporate conflict/mediation consultant. His clients included local, national, and international groups and firms.
He received a PhD from the University of Manitoba, an MA in Adult Education from St. Francis Xavier University, and a BEd (Gold Medal) from the University of Manitoba.