Research Feature
German-Canadian Studies
---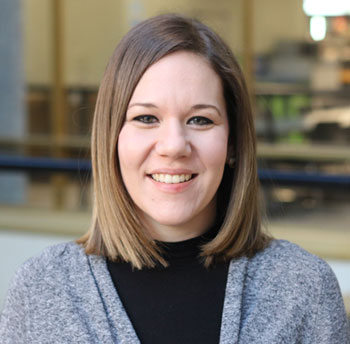 Q & A with Karen Brglez, Research Assistant for the German-Canadian Studies Department
What did you do before your current role as research assistant?
 I completed my undergraduate degree in History from the University of the Fraser Valley in Abbotsford, B.C. From there I completed my Master's degree in History in the Joint Program from the University of Manitoba and the University of Winnipeg in 2015. I completed my M.A. thesis under the supervision of visiting scholar from Germany, Dr. Alexander von Plato and the Chair in German-Canadian studies, Dr. Alexander Freund. My thesis examined Canadian Foreign Policy on German unification in 1989-1990. After completing my M.A., I began working as a research assistant for the department of German-Canadian studies.
What is your current research project?
My research project examines the beginnings of German-Canadian historiography after the Second World War through an examination of the biography of Gottlieb Leibbrandt. An ethnic German from the Ukraine, Leibbrandt immigrated to Canada in the early 1950s. He became an important contributor to postwar German-Canadian scholarship, author of Little Paradise and other German-Canadian publications. However few in Canada knew about his career prior to immigrating. In the interwar period he was an important figure in the Russian-German émigré community in Germany where he worked as a scholar for Goebbels's propaganda ministry and served on the eastern front as an interrogator for Russian prisoners of war. He also maintained close ties with his brother Georg Leibbrandt who was a high official in the political sector of Alfred Rosenberg's Ministry for the Occupied Eastern Territories and scholar Karl Stumpp who conducted ethnographic research in Ukraine for the Nazis. After the war, these men reinstated their careers as ethnic German researchers and scholars in the postwar period. My research examines Leibbrandt's unknown Nazi past and questions its impact on the writing of German-Canadian history after the war.
Where did you travel for this research?
I received a research grant from the German-Canadian Studies and Spletzer Family Foundation. This funding helped me get this study off the ground enabling me to travel to Lincoln, Nebraska and Ottawa over the summer months. In Lincoln I examined the 1930s Berlin-based publication, Deutsche Post aus dem Osten. This was a monthly periodical published for the Russian-German émigré community. Gottlieb was a frequent contributor in the years leading up to the war where he used the publication to cultivate Nazi propaganda. I also travelled to Ottawa and had an oral history interview with his son, Wolfram Leibbrandt. Wolfram was in possession of his father's papers and kindly let me spend a day examining his father's extensive collection. I also spent some time at the National Archives.
What will you do with this research?
I'm hoping to include this work as a chapter in Dr. Alexander Freund's upcoming essay collection on "History, Memory, and Generations: German-Canadian Experiences from the Eighteenth to the Twenty-First Centuries" tentatively planned for publication in spring 2017. The proposed collection intends to focus on the experiences, histories, and memories of German immigrants in Canada and their descendants.
What do you want people to understand about your work?
I would like people to take away from this research that it is important to engage with difficult memories – it is necessary to try to understand why certain memories were "silenced" after the war and how those silences impact future generations.