Access Control System Upgrade
Facilities Management is currently in the process of deploying updates to the electronic access control system across campus which is managed by a physical security platform called Genetec. This platform will provide a number of enhanced security features including instant credential updates, door status/control and integration into other security systems such as intrusion alarms and video surveillance. 
Converting all door readers to this system will consist of a multi-year implementation that will be done in a number of different phases. Our immediate priority consists of issuing new fobs/access cards to all employees while simultaneously starting to convert readers on exterior doors, common spaces and corridors of connecting buildings. Employees will need to continue using two fobs/access cards until the transition from Salto to the Genetec platform is complete.
We encourage you to read the Frequently Asked Questions posted below and visit this page for updates on the status of this implementation.
We appreciate the patience of the campus community as we make the switch to an improved access control system. Questions related to this upgrade can be directed to facilities@uwinnipeg.ca.
Last updated 08/22/2022
Frequently Asked Questions
How will I gain access to campus this fall?
Starting September 6th, the entrance doors listed below will be open from 7:30 am to 6:00 pm Monday through Friday. 
Anx (Bookstore Entrance)
Asper Centre for Theatre and Film Main Entrance (400 Colony Street)
Axworthy Health and RecPlex Main Entrance (350 Spence Street)
Bryce Hall (East side of Wesley Hall)
Buhler Centre Main Entrance (460 Portage Ave)
Centennial Hall Main Entrance 
Duckworth Centre Main Entrance (400 Spence Street)
Helen Betty Osborne Main Entrance (511 Ellice Ave)
Lockhart Hall (off Ellice Avenue)
Manitoba Hall (off Balmoral and across from the Anx)
Richardson College for the Environment and Science Complex Main Entrance (599 Portage Ave)
Riddell Hall (off Spence Street)
Wesley Hall Main Entrance
Our main priority is to begin installing new readers on the doors listed above. Until we are fully prepared to begin converting doors, video intercoms with a communication link to the Security office will be placed at these locations for afterhours access.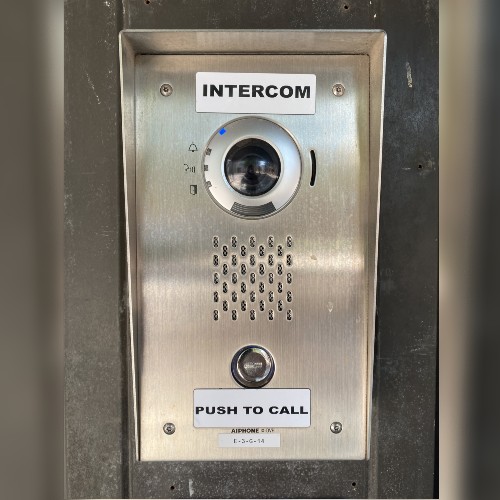 *Hours of operation for campus buildings not listed above will be posted at main entrances.
Why have I not received an email inviting me to come pick-up my new fob/access card?
We have decided to email employees in groupings. Please keep an eye out for an email from us inviting you to come pick-up your new fob/access card!
What details of my personal information will be stored in the access control system?
The following details of your personal information will be collected in the University's electronic access control system:
Full Name.
Staff Identifications Number.
Picture.
Department and job title.
Permitted areas on campus and schedule.
Location, date and time of access.
This information will be used and stored locally for the purpose of managing your account, to contact you when required, and for emergency and security purposes. Your picture will be additionally used for the purpose of verifying your identity when issuing or replacing a lost, stolen or otherwise missing electronic access control credential. It is also used to maximize security within the University Facilities by providing convenient access to authorized users while restricting access to any unauthorized individuals.
Your personal information is collected under the University of Winnipeg Act and 36(1)(b) of the Freedom of Information and Protection of Privacy Act for the purposes described above. Questions regarding this collection can be directed to facilities@uwinnipeg.ca. You may also contact the University's Information and Privacy Office at da.elves@uwinnipeg.ca. 
Will my access change during this campus wide transition?
As we move forward with this update we will be redefining door access privileges on a departmental basis. This work will be done by Facilities Management in collaboration with the Chairs/Heads/Directors of departments across campus. Please contact your Supervisor should you have any questions about your access. 
How will I know which electronic access control credential to use on a door reader?
Your red Salto fob can be used at these type of readers:
The grey/black fob can be used at these type of readers: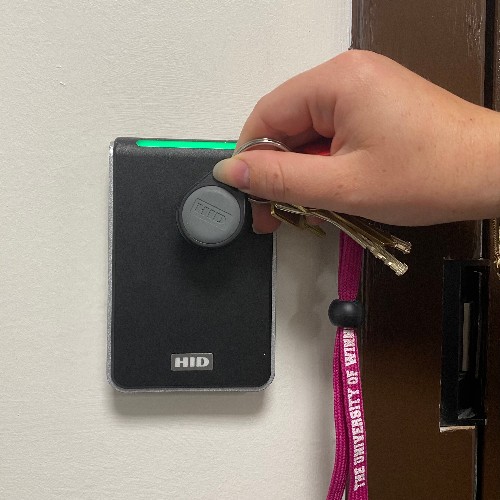 Will I need to update my new fob/access card every 24 hours?
Your new fob/access card will not need to be updated at a hotspot every 24 hours. When we begin converting readers on entrance doors we will need to remove the Salto hotspots from their current locations. They will be placed just inside the main entrance doors for ease of access and will be identified with signage. These hotspots are still needed to recharge your old fob or card for existing Salto doors.
Which fob/access card should I use on University printers/photocopiers?
Please continue to use your Salto fob/access card on University printers/photocopiers until further notice.
Will students be issued new access cards?
This will be an upcoming phase in our implementation plan. More information will be provided when we are ready to begin issuing access cards to students.