Renée Douville
Associate Professor
---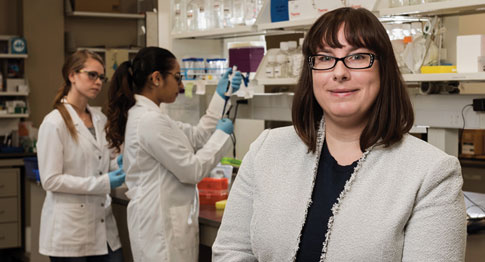 Contact Information
Fields:
Biology
Brain Dysfunction
Infectious Diseases
Neuroscience
Virology
Areas of Expertise:
Amyotrophic lateral sclerosis (ALS)
Endogenous retroviruses
Schizophrenia
Languages Spoken:
Available To:
Appear as a public speaker
Write articles
Discuss research with industry, government, and others
About:
Dr. Renée Douville's research focus is the study of endogenous retroviruses found within the human genome. Her training includes a PhD in Immunology at the University of Manitoba, a postdoctoral fellowship in Neurology at Johns Hopkins University and a second postdoctoral fellowship in immunity against retroviruses at McGill University.
Douville's RetroFIND laboratory studies neurological conditions associated with endogenous retrovirus activity, specifically Amyotrophic Lateral Sclerosis (ALS) and schizophrenia. The goal of the lab is to understand how these viruses impact human health and identify therapeutics that prevent virus-triggered cell damage.
The lab team is composed of undergraduate and graduate students, as well as senior researchers. Experiential training is provided in human cell culture, molecular biology and confocal imaging techniques, as well as how to navigate the challenging world of biomedical research.
Research Expert