Eva Pip
Experts Guide
---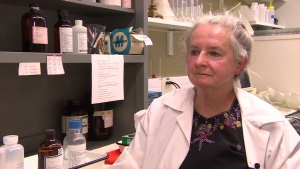 Contact Information
Eva Pip
Professor (retired)
Fields:
Agriculture
Biodiversity
Conservation
Environment
First Nations
Indigenous Issues
Plant Sciences
Pollution
Public Health
Water
Areas of Expertise:
Algae
Aquatic Ecosystem Health
Aquatic Invasive Species
Contaminants in Water and Food
Environmental Health
Heavy Metals
Macrophytes
Molluscs
Plant Science
Public Health
Toxicology
Water Quality
Languages Spoken:
Available To:
Appear on radio or TV
Appear as a public speaker
Provide comment to media
Write articles
Discuss research with industry, government, and others
About:
Dr. Eva Pip is a recently retired professor at The University of Winnipeg who has taught courses in water quality, environment and plant science at UWinnipeg and the University of Manitoba for 40 years. She has more than 125 publications including 3 books. She has also produced numerous reports and briefs to government agencies and commissions, as well as consulting reports. She has served on numerous environmental committees and panels, has been/is on the Board of Directors of nonprofit agencies, and has served as an expert witness in environmental legal proceedings across Canada.
During her career, Pip has worked on more than 650 lakes and rivers in North America. Her special research interests are Lake Winnipeg, toxic algae, heavy metals, waterborne diseases, and freshwater molluscs including zebra mussels. She has contributed to numerous TV (e.g. twice to CBC The Fifth Estate) and film documentaries on environmental issues, particularly mining and intensive livestock operations. She has been an invited keynote speaker at national and international conferences, and is a frequent speaker for groups, clubs, and events. She has given more than 500 media interviews in Canada and the U.S.
Media and Research Expert
My Headlines
The University of Winnipeg honours the retirees at a reception on Wednesday, May 11, 2016 in Riddell Hall at 2:00pm. Everyone is welcome.