Events
Experiential Learning
---
Engaging Students in a 21st Century Classroom - Webinar, June 14, 2017 
Attention Faculty! You are invited to a webinar titled "Wake them up! Engaging Students in a 21st Century Classroom."
This workshop will explore how student-centered active learning approaches can enhance student engagement, success, and retention.
The 60-minute session will take place in the University Club on June 14 at 1:00 pm.

For more information or to RSVP, contact Daniel Leonard, Experiential Learning Coordinator at da.leonard@uwinnipeg.ca
---
Annual Broad Strokes: Learning Outside the Lines Event - February 17, 2017
Please join us for the annual Experiential Learning Celebration Event. This event will take place on February 17, 2017 from 2-4pm in room 2M70. The event will be interactive and provide an opportunity to learn from some of the projects funded through the Experiential Learning fund. We will also put out our new call for proposals for the next round of Experiential Learning funding. 
To find out more or RSVP for the event contact Daniel Leonard at ELN@uwinnipeg.ca. If you forget to RSVP come anyway. 
_______________________________________________________________________________________________________________________________________________________________________
ELN presents: Teaching Matters - 2015
Please join faculty from different disciplines who will showcase their field school projects and discuss successes and challenges. All sessions are from 12:30-1:20 in 4M39.
February 27: International Field Schools with Ying Kong and Lenore Szekely (Shanghai Field School) and Gabriel Nemoga (Colombia Field School)
March 11: In-Province Field Schools with Christopher Storie (Churchill Field School) and Judith Harris (Inside-Out Prison Exchange Program)
March 20: Setting up an International Field School 101 with Dean Peachey (Global College)
---
Second Annual Broad Strokes: Learning Outside the Lines Event - November 21st, 2014
Once again we celebrated the projects that were funded through this year's Experiential Learning Fund. A video by filmmaker Jonathan Ventura highlighted the various projects as well as the 'aha' moments experienced by faculty, staff, and students as they engaged in these experiential opportunities.
---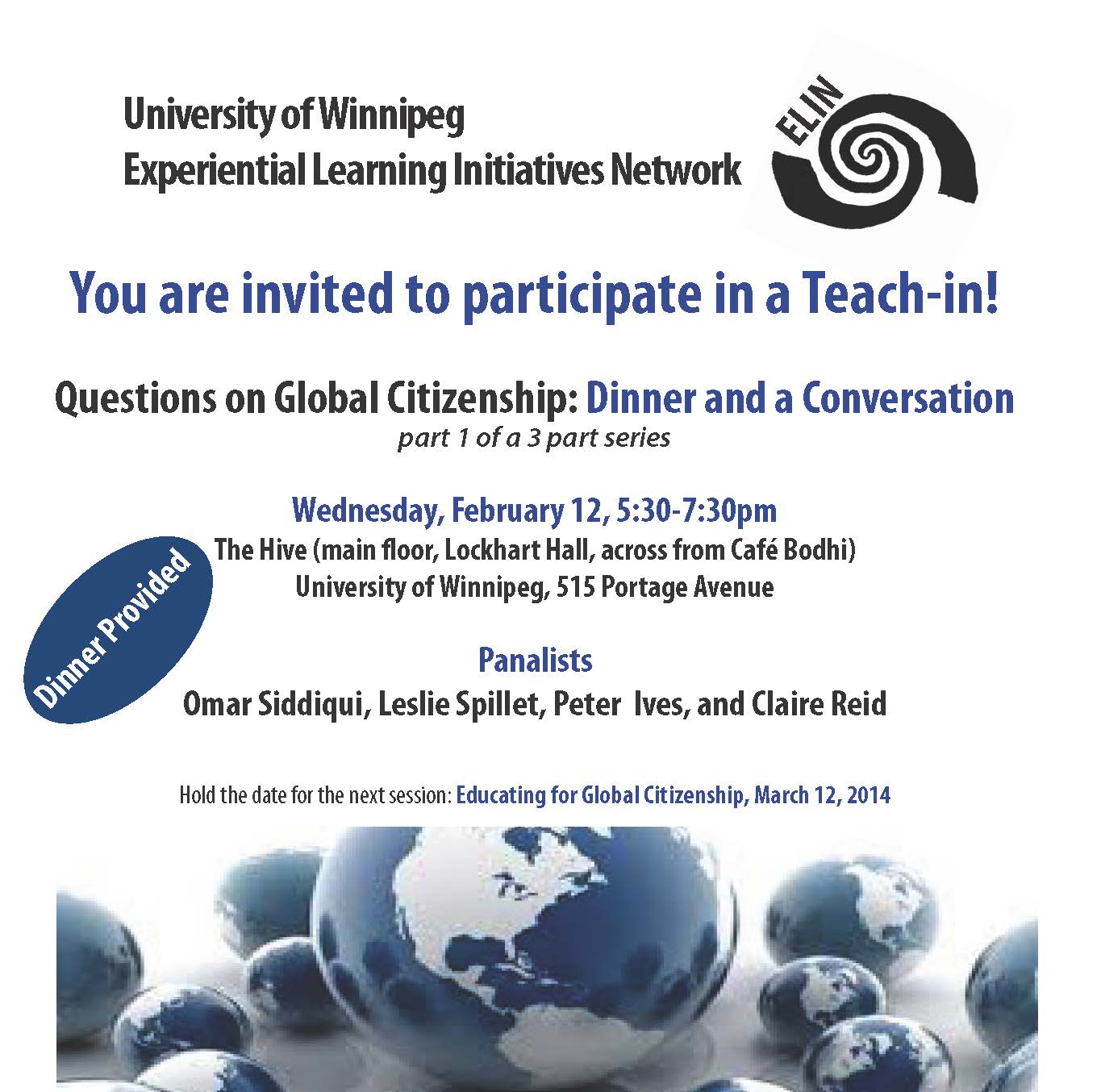 ELN Presents: A series of teach-ins on Global Citizenship - 2014
Intended as a free, professional development opportunity for high school, university, and non-traditional educators, please join us for dinner and conversations surrounding the complex and oftentimes contested notion of global citizenship.
Wednesday February 12: Questions on Global Citizenship
with panelists Omar Siddiqui, Leslie Spillet, Peter Ives, and Claire Reid  

Wednesday, March 12: Pedagogies of Global Citizenship with panelists Leah Gazan, Linda Mlodzinski, Yekaterina Shinkaryova, and Ira Udow
Wednesday, April 9: Experience of Global Citizenship with panelists Lloyd Kornelsen, Nina Singh, Dawn Sutherland, and Ruth Taronno

Download the invitation for the March 12th event here [pdf] and the April 9th event here [pdf]
---
Broad Strokes: Learning Outside the Lines - October 9th, 2013
Broad Strokes was a celebration of the projects that were funded through the inaugural Experiential Learning Fund.  The event was an opportunity to showcase these projects as well as to gather ideas about ways to strengthen experiential learning at The University of Winnipeg.  A video was created to showcase the projects, and feedback collected during the event is being integrated into ELIN's work moving forward.
Click here to download the 2012-2013 EL Fund Final Report[pdf]
---