WIR - Garry Thomas Morse
English
---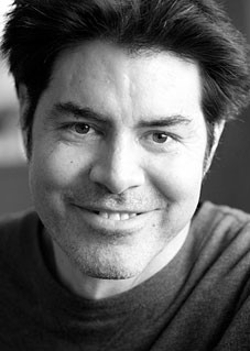 2019 Carol Shields Writer in Residence:
Garry Thomas Morse
Garry Thomas Morse is a poet, novelist, and editor originally from Canada's west coast and currently living in Winnipeg. His work has twice been short-listed for the Governor-General's Award for Poetry and twice short-listed for the national Re-Lit Award for fiction. Garry's poetry book Discovery Passages explores myth, history, and the injustice of the potlatch ban against his Kwakwaka'wakw Indigenous ancestors. His recent poetry title Prairie Harbour traces multiple lines of his mixed ancestry, including the nomadic Wakashan speakers who were later to form various West Coast Indigenous peoples, and Jedidiah Morse, the "father of American geography." Morse is also the author of The Chaos! Quincunx, a genre-busting speculative fiction series in three books.  His novel, Yams Do Not Exist, is forthcoming in 2019 from Turnstone Press.
Garry is with us for four weeks during the winter term, from Feb 4 to Feb 15 and from Feb. 25 to March 8 (that's two weeks before reading week and two weeks after reading week). Members of the public, as well as students and members of the university community may book appointments for a free consultation with him during his term. His regular office hours will be Thursdays 9:30-11:30 a.m. and 12:30-2:30 in 2A35 on the second floor of Ashdown Hall. Writers may drop by to see him, but we advise making an appointment to secure a spot. Email Garry at g.morse@uwinnipeg.ca to request an appointment. You may attach up to six to ten pages of your writing (in a Word doc) for him to read.
On Thursday, March 7th at 7:00 pm please join us for Garry's Carol Shields Distinguished Lecture (Room 2M70, second floor of Manitoba Hall). Refreshments will be served, cash bar.
The Carol Shields Writer-in-Residence Program at the University of Winnipeg was made possible by a generous donation from the Shields family. The program's name honours the memory of Carol Shields, Pulitzer-prize winning novelist and Chancellor of the University of Winnipeg from 1996 to 2000. At Convocations, our students and their families were privileged to hear her wise and beautifully-crafted addresses to the graduands. Carol was also a generous mentor to emerging writers, so this program is a fitting tribute to her. As former UW President Dr. Lloyd Axworthy has said, "Carol was enormously committed to cultivating young writers. Through the thoughtfulness and generosity that the Shields family has shown to the University, opportunities have been created for many more people and emerging writers to discover their creative voices."