Katherena Vermette
English
---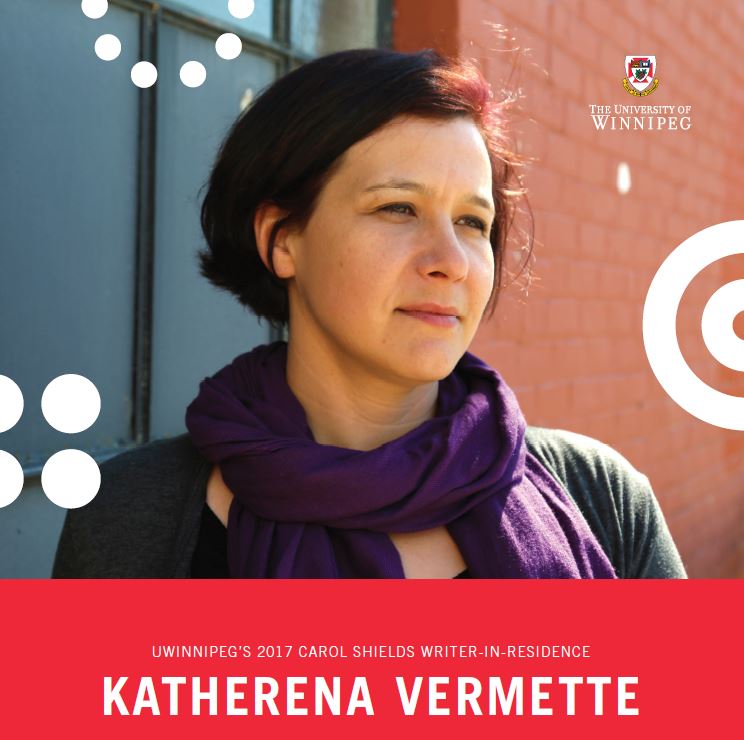 Katherena Vermette is the 2017 Carol Shields Writer-in-Residence
The English Department is very happy to host Katherena Vermette as the 2017 Carol Shields Writer-in-Residence for the month of March. A Métis writer from Treaty One territory, Katherena won the 2013 Governor General's Literary Award for Poetry for her first book, North End Love Songs. She is also the author of the children's picture-book series The Seven Teachings Stories.
Her 2016 novel, The Break, was the first title in the CBC Unreserved Indigenous Reads Book Club and is currently a finalist for the 2017 CBC Canada Reads competition. Candy Palmeter, who is championing the book in the competition, explains why every Canadian needs to read The Break: it is "a very well-crafted, well-written book, a story that will not let you go but will tell you the story of different generations of Indigenous women." Learn more about CBC Canada Reads here: http://www.cbc.ca/books/canadareads/
Vermette co-produced the short film documentary, This River, with Erika MacPherson for the National Film Board of Canada. It has been nominated for the 2017 Canadian Screen Award for short documentary (https://www.academy.ca/2017/meet-our-2017-nominees/). Focusing on the Drag the Red movement, the film "offers an Indigenous perspective on the devastating experience of searching for a loved one who has disappeared" (watch the film online at: https://www.nfb.ca/film/this_river/) 
Writers are encouraged to consult with Katherena during the month of March. Consultations are free and open to the public. You may contact Katherena Vermette as of March 1st at: ka.vermette@uwinnipeg.ca 
Everyone is invited to attend a free public reading by Katherena on Wednesday, March 18th, at 12:30pm in room 1L07.