Steve Asselin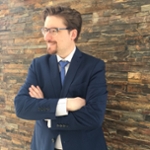 Title: Instructor
Office: 2M69
Building: Manitoba Hall
Email: s.asselin@uwinnipeg.ca
Biography:
Steve Asselin received his Ph.D. from Queen's University and has since taught at Queen's, the University of Alberta, and Brandon University. His research focuses on the intersections of the environment with literature, especially disaster fiction, climate change, and Gothic ecology. Current research projects include nineteenth-century climate change fiction, and racism in apocalyptic fiction. 
Teaching Areas:
Nineteenth-Century Literature; Ecocriticism; Representations of Disaster and Apocalypse; Genre Fiction, especially the Gothic, Science-Fiction, and Utopia and Dystopia.
Courses:

(W) ENGL-1004-004 Reading Culture
(FW) ENGL-2601-001 The Novel
Publications:

"Still Marked on Many Maps: Gothic Treatments of Landscape in Disaster Fiction." "Gothic Ecologies from the Eighteenth Century to the Present," a special issue of the Journal for the Study of British Cultures, Katharina Boehm and Stephan Karschay, eds., vol. 27, no. 2, Würzburg, Königshausen & Neumann, July 2021.
"Apocalypse, Inc.: Incorporating the Environment into the Boom/Bust Cycle in Fin-de-Siècle SF." Speculative Finance/Speculative Fiction, a special issue of CR: The New Centennial Review, edited by Hugh O'Connell and David M. Higgins, Ann Arbor, Michigan State University Press, May 2019.
"'So Very Natural an Occurrence': Engendering Nature's Antagonism in Mary Shelley's The Last Man." Gender & Environment in Science Fiction, edited by Christy Tidwell and Bridgitte Barclay, Lanham, Lexington Books, 2019.
"A Climate of Competition: Climate Change as Political Economy in Speculative Fiction, 1889-1915." Science Fiction and the Climate Crisis, a special issue of Science Fiction Studies, edited by Veronica Hollinger and Brent Bellamy, vol. 48, no. 3, November 2018.