Sarah Bezan
English
---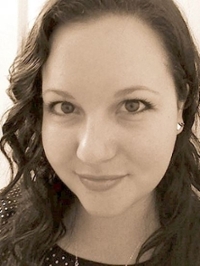 Title: Instructor
Office: 2M69
Building: Manitoba Hall
Phone: 204.786.9203
Email: s.bezan@uwinnipeg.ca

Biography:
Sarah Bezan is a PhD Candidate in English at The University of Alberta, where she recently completed a dissertation on the evolutionary aesthetics of Charles Darwin. Her next research project examines visual narratives of prehistoric life by contemporary paleoartists, including Canadian scientific illustrator Julius Csotonyi. During the 2017-2018 academic year, Sarah will serve as a Research Affiliate at the Institute for the Humanities at The University of Manitoba.
Teaching Areas:
Environmental Literatures; Animal Studies; Contemporary Women's Writing; History and Philosophy of Natural Science
Courses:
(F) ENGL-1000.3-005 English 1A
Publications:
Edited Volumes:
Seeing Animals After Derrida. Ed. Sarah Bezan and James Tink. Lanham: Lexington Books, Rowman & Littlefield Imprint (In Press; 2017).
Thompson Butler, Elizabeth. Waterloo Diary: Woman Battle Artist in Training. Ed. Juliet McMaster with Sarah Bezan, Adela Burke, Brandi Goddard, Yifan Li, and Kaarina Mikalson. Sydney, Australia: Juvenilia Press, 2015.
Refereed Journal Articles:
"Necro-Eco: The Ecology of Death in Jim Crace's Being Dead." Mosaic: A Journal for the Interdisciplinary Study of Literature 48.3 (Sept. 2015): 191-207. *Reprinted in Jim Crace. Ed. Lawrence Trudeau. Contemporary Literary Criticism Series. Layman Poupard Publishing, 2018 (forthcoming).
 "Shame as a Structure of Feeling: Raped and Prostituted Women in J.M. Coetzee's Disgrace and Futhi Ntshingila's Shameless." Journal of the African Literature Association 7.1 (Summer/Fall 2012): 15-24.   
 "This earth, hot like burning coals': Alchemical Transmutation in Animal's People." Criterion 5 (Spring 2012): 99-108. [Graduate Journal]
 "From the Mortician's Scalpel to the Butcher's Knife: Towards an Animal Thanatology." Journal for Critical Animal Studies 10.1 (Winter 2012): 119-37.
Book Chapters:
"Vegetal Flesh: Embodying Edibility in Jim Crace's The Devil's Larder." In Writing Meat: Flesh-Eating and Literature Since 1900. Eds. Sean McCorry and John Miller. London: Palgrave, 2018 (forthcoming).
 "A Darwinism of the Muck and Mire in 4 Theses." In Texts, Animals, Environments: Zoopoetics and Ecopoetics. Ed. Roland Borgards, Catrin Gersdof, Frederike Middelhoff, and Sebastian Schönbeck. Freiburg: Rombach Verlag "Cultural Animal Studies Series," 2017 (forthcoming).
 "The Anterior Animal: Derrida, Deep Time, and The Immersive Vision of Paleoartist Julius Csotonyi." In Seeing Animals After Derrida. Ed. Sarah Bezan and James Tink. Lanham: Lexington Books, Rowman &Littlefield Imprint (In Press).
Non-Peer Reviewed Publications:
"Draw a New Circle." In Theory: A Newsletter of the Cornell University International School of Criticism and Theory (2016): 550 words. [Invited contribution.]
"Contending With Marginal Histories in Books That Spur." The Line: An Online Publication of Spur National Festival of Politics, Art & Ideas (2016): 400 words.
Guillaume Morissette. New Tab. 2014. 164 pp. The Bull Calf Review 5.2 (Winter 2016): 550 words.
"Navigating the Terrain of Canadian Feminism(s): An Interview with GUTS Magazine, Co-founded by Nadine Adelaar and Cynthia Spring." Inquire: Journal of Comparative Literature 4.2 (Nov. 2015): 1300 words.
Diane Schoemperlen. By the Book. 2014. 218 pp. The Bull Calf Review 5.1 (Winter 2015): 750 words.
"Ecology and Environmental Humanities Symposium, Rice University." Journal for Critical Animal Studies 12.1 (2014): 1000 words.
Gail Scott. Obituary. 2010. 186 pp. The Bull Calf Review 2.2 (Spring 2012): 500 words.