Marilyn Simon
English
---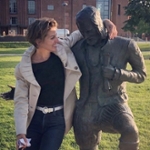 Title: Instructor
Office: 2A37
Building: Ashdown
Phone: 204.786.9281
Email: m.simon@uwinnipeg.ca
Biography:

Dr. Marilyn Simon fell in love with Shakespeare's sentences, became curious about the world as he saw it, and ended up with a PhD on Shakespeare from the University of Toronto. She loves poetry because it's beautiful, and fictions because they're imaginative.
Her current research interests are on love and the relationship between men and women. She is interested in reaching a broad audience rather than a strictly academic one.
Courses:
(FW) ENGL-2311.6-001 Shakespeare
Publications:

Non Academic Publications
2019 "'Unsex me here' and Other Bad Ideas." Quillette. July 22, 2019.  https://quillette.com/2019/07/22/unsex-me-here-and-other-bad-ideas/ 
"A Modest Defense of the Missionary Position." Quillette. June 5, 2019. https://quillette.com/2019/06/05/a-modest-defence-of-the-missionary-position/ 
"The Ugly Truth About Not Seeing Beauty." Areo Magazine. May 10, 2019. https://areomagazine.com/2019/05/10/the-ugly-truth-about-not-seeing-beauty/ 
"#NotMe": On Harassment, Empowerment, and Feminine Virtue." Quillette. April 4, 2019. https://quillette.com/2019/04/04/notme-on-harassment-empowerment-and-feminine-virtue/ 
2018    "Feminism's Dependency Trap." Quillette. December 20, 2018. https://quillette.com/2018/12/20/feminisms-dependency-trap/
Academic Publications
2007    "Doubled Brothers, Divided Self: Duality and Destruction in The Master of Ballantrae."  The Journal of Stevenson Studies 4 (2007), 129-150.
2012    "Locating the Past/Discovering the Present: Perspectives on Religion, Culture, and Marginality." Review.  University of Toronto Quarterly. Vol. 81.3, Summer, 2012, 675-6.
2014    "The Allure of the Chaste." Review. Journal of Mennonite Studies. Vol. 32, 2014, 256-7.
Documentary Film
2018    The Fantasy Makers: Tolkien, Lewis, and MacDonald. Co-writer, with Andrew Wall.  Refuge 31 Films. Amazon Prime.