Lauren Chochinov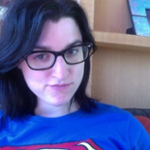 Title: Instructor
Email: l.chochinov@uwinnipeg.ca
Biography:

Lauren Chochinov teaches English literature at the University of Winnipeg and communications at Sheridan College in Ontario, Canada. Her research focuses on queer representation in popular culture, especially comic books and graphic novels. She is currently editing a chapter on the intersections of queerness and monstrosity in the AfterShock comic book series InSEXts. Lauren earned her PhD from the University of Edinburgh where she studied medieval literature.
Teaching Areas:

Medieval literature, graphic novels
Courses:
(F) ENGL-2220-001 English Literatures and Cultures 700 - 1660
Publications:

Chochinov, Lauren. "Inheritance: The Legacy of Ellie Sattler." Franchising Jurassic Park, special issue of Cinergie: Il Cinema e le alter Arti. Eds. Ian Hunter and Matthew Melia. June 2023. (forthcoming)
Chochinov, Lauren. "'A sight to dream of, not to tell!'": Orality and Power in Marguerite Bennett and Ariela Kristantina's Insexts. Critical Approaches to Horror Comic Books: Red Ink in the Gutter. Eds. Fernando Gabriel Pagnoni Berns and John Darowski, Routledge, 2022. (forthcoming)
Chochinov, Lauren. ""What's going on with your two?": Queerness, Fandom, and Adaptation in The Legend Of Korra Franchise." Polyptych: Television, Comics, and Adaptation, edited by Reginald Wiebe, Vernon Press, June 2021.