Doris Wolf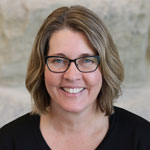 Title: Associate Professor
Phone: 204.789.1473
Office: 2A44
Building: Ashdown
Email: d.wolf@uwinnipeg.ca
Biography:

Doris Wolf teaches in the Department of English and the Faculty of Education's Access programs. She is also the Director of the Centre for Research in Young People's Texts and Cultures (CRYTC) and an editor for Jeunesse: Young People, Texts, Cultures. She currently researches and publishes in the areas of Canadian Aboriginal picture books and graphic narratives and memoirs about German childhoods in World War Two.
Teaching Areas:
Young people's texts and cultures; Aboriginal children's literature; Canadian literature; lifewriting.
Courses:

(F) ENGL-3119-001 Canadian Children's Literature and Culture
(F) ENGL-3119-250/251 Canadian Children's Literature and Culture
Publications:

"Challenging Stereotypes by Restorying History in Canadian Indigenous-Authored Picture Books and Graphic Narratives for Middle Years Classrooms." New Voice and Vision in Literacy Learning: Encouraging Transformative Learning. Ed. Karen M. Magro. Paris and Ulm: International Centre for Innovation in Teaching, 2016. Forthcoming.
"Restorying and Unsettling Canadian Indigenous-Settler Histories: Intercultural Exchange in David Alexander Robertson's The Life of Helen Betty Osborne and Sugar Falls." In Canadian Graphic Life Narratives. Eds. Candida Rifkind and Linda Warley. Waterloo, ON: Wilfrid Laurier University Press, 2016. Forthcoming.
"Confronting the Legacy of Canada's Indian Residential Schools: Cree Cultural Memory and the Warrior Spirit in David Alexander Robertson and Scott B. Henderson's 7 Generations Graphic Novel Series." In Canadian Literature and Cultural Memory. Eds. Cynthia Sugars and Eleanor Ty. Toronto, ON: Oxford University Press, 2014. 337-53.
"The Suffering of the Perpetrators: The Ethics of Traumatic German Historicity in Karen Bass's Young Adult World War II Novels." International Research in Children's Literature 7.1 (2014): 64-77.
"The Seductions of Good and Evil: Competing Cultural Memories in Steven Keewatin Sanderson's Superhero Comics for Aboriginal Youth." In Children and Cultural Memory in Texts of Childhood. Eds. Lorna Hutchison and Heather Snell. New York: Routledge, 2013. 179-96.
"'All My Relations': Thomas King's Coyote Tetralogy for Kids." Thomas King: Works and Impact. Ed. Eva Gruber. Rochester, New York: Camden House, 2012. 98-109.
"Beyond Repression: German Women's War History and Hysteria in Mavis Gallant's 'O Lasting Peace' and 'An Alien Flower.'" Contemporary Women's Writing 5.1 (2011): 1-17.
"Brave or Naïve? Memory Work and Vergangenheitsbewältigung in Gertrud Mackprang Baer's In the Shadow of Silence." German Diasporic Experiences: Identity, Migration, and Loss. Eds. Mathias Schulze, et al. Waterloo: Wilfrid Laurier University Press and the Waterloo Centre for German Studies, 2008. 455-467. with Paul DePasquale, "Home and Native Land: A Study of  Canadian Aboriginal Picture Books by Aboriginal Authors." Home Words: Discourses of Children's Literature in Canada. Ed. Mavis Reimer. Waterloo: Wilfrid Laurier University Press, 2008. 87-105.