Christopher Petty
English
---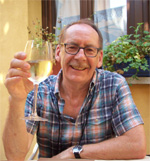 Title: Instructor
Email: c.petty@uwinnipeg.ca
Biography:

Chris Petty is a modernist with a particular interest in narrative theory. Studies at Cambridge, Western, and the University of Manitoba have fostered a range of complementary academic interests including fantasy and SF, modernism and postmodernism, narrative and genre, the end of Empire, and time in fiction. His most recent conference paper (presented at the University of Lancaster, England) examined the poetics of the time loop plot in cinema with a particular focus on Doug Liman's Edge of Tomorrow.
Teaching Areas:

Modernism/postmodernism, British literature of the C18th and C19th, modern Canadian literature, science fiction and fantasy, genre and fictional form.
Courses:
(W) ENGL-1003-005 Intro Topics in Literature
Publications:

Review of Illegal Alien by Robert J. Sawyer.  Winnipeg Free Press, January 11, 1999.
Review of Tesseracts2, ed. Phyllis Gotlieb and Douglas Barbour.  Prairie Fire 10.3 1989): 67-70.
"The Body Eclectic:  Recent Science-Fiction Studies."  Canadian Review of American Studies 17.3 (1986): 395-400.