Christopher Petty
English
---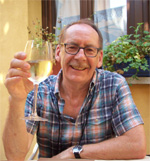 Title: Instructor
Office: 2A45
Building: Ashdown
Phone: 204.789.1475
Email: c.petty@uwinnipeg.ca

Biography:
With degrees from Cambridge, Western, and the University of Manitoba, Chris Petty regards himself as an accidental Modernist. While he continues to be interested in the modern novel, his other research interests include fantasy and SF, Modernism and Postmodernism, time in fiction, narrative and genre, and the end of Empire.  His most recent conference papers dealt with time loops and gaming in Tom Tykwer's film Run Lola Run, intertextuality in Robert Kroetsch's Seed Catalogue, and generic confusion in Ursula Le Guin's The Beginning Place.
Teaching Areas:
Modernism/postmodernism, British literature of the C18th and C19th, modern Canadian literature, science fiction and fantasy, genre and fictional form.
Courses:
(W) ENGL-1000.3-006 English 1A
(F) ENGL-1003.3-003 Intro: Topics in Literature
(W) ENGL-3118.3-001 Topics in Fiction for Young People
Publications:
Review of Illegal Alien by Robert J. Sawyer.  Winnipeg Free Press, January 11, 1999.
Review of Tesseracts2, ed. Phyllis Gotlieb and Douglas Barbour.  Prairie Fire 10.3 1989): 67-70.
"The Body Eclectic:  Recent Science-Fiction Studies."  Canadian Review of American Studies 17.3 (1986): 395-400.