Chigbo Arthur Anyaduba
English
---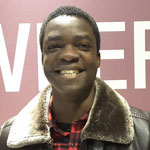 Title: Assistant Professor
Office: 2A45
Building: Ashdown Hall
Phone: 204.789.1476
Email: c.anyaduba@uwinnipeg.ca
Degrees:

PhD – University of Manitoba, 2018.
MA – Obafemi Awolowo University, 2013.
BA – Obafemi Awolowo University, 2008.
Biography:

Chigbo Arthur Anyaduba is an assistant professor of English. His work focuses broadly on contemporary African literatures. His current research examines representations of mass atrocities and genocides in Africa. He is currently at work on two book projects: a book monograph entitled "Writing Postcolonial African Genocides," and a collaborative book project entitled "The African Novel and the Reconstruction of Usable Pasts." Anyaduba is a recipient of several prestigious awards, including a Vanier Canada Graduate Scholarship for his doctoral dissertation at the University of Manitoba, and a J.B. and Maurice C. Shapiro Fellowship at the United States Holocaust Memorial Museum for his research on "African" genocides.
Teaching Areas:

African literatures, African-American/Black Diaspora literatures, genocide studies, postcolonial studies, critical and cultural theory, creative writing
Courses:

(F) ENGL-2740-002 African Literature and Culture
(F) ENGL-4742-001 Cultural Studies
(F) GENG-7112-001 Topics in Cultural Theory
Publications:

JOURNAL ARTICLES
(Co-authored with Benjamin Maiangwa, and Muhammad Dan Suleiman). "The Nation as Corporation: British Colonialism and the Pitfalls of Postcolonial Nationhood in Nigeria." Peace and Conflict Studies, vol. 25, no. 1, 2018, pp. 1-23.
 (Co-authored with Ademola Adesola). "Rethinking Violence in Africa." Peace Review: A Journal of Social Justice 29, no. 3 (2017): pp. 275-281.
"Broadening the Canon: Africa and Its Non-Migrant Diasporas." Critical Arts 30, no 4 (2016): pp. 43-57.
BOOK CHAPTER
"Common Existence, Uncommon Beingness: Existential Psychopathy in Diop's Murambi, the Book of Bones." In Existentialism, Literature and the Humanities in Africa; Essays in Honour of Professor Benedict Mobayode Ibitokun, edited by Chijioke Uwasomba, Adebayo Mosobalaje, and Oluwole Coker. Cuvillier Verlag Göttingen, 2014, pp. 168-174.
BOOK REVIEWS
The Failures of Ethics: Confronting the Holocaust, Genocide, and Other Mass Atrocities, by John K. Roth. Oxford: Oxford University Press, 2015. International Journal on World Peace vol. XXXIV, no. 2, (June 2017): pp. 104-108.
Remembering for the Future: Armenia, Auschwitz, and Beyond edited by Michael Berenbaum, Richard Libowitz, and Marcia Sachs Littell. Minnesota: Paragon House, 2016. International Journal on World Peace VOL. XXXIII NO. 4 (Dec. 2016): 85-88.