Audrey Barkman-Hill
English
---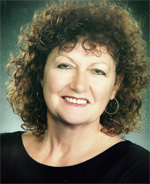 Title: Instructor
Email: a.barkmanhill@uwinnipeg.ca
Biography:

Dr. Barkman Hill is an award-winning scholar who holds Bachelor of Arts and Bachelor of Education degrees from Brandon University, a Master of Education degree from the University of Lethbridge and a Doctor of Philosophy degree from the University of Regina. She holds professional teaching certificates from Alberta, Saskatchewan and Manitoba, and in the field of public education has held positions as a literature instructor, principal, counselor and professional development chair. Her PhD dissertation traces the notion of the ethical subject through postmodern and poststructuralist theorizing especially that emerging from Foucault's archaeological mapping. She currently teaches undergraduate courses in the English Department for the University of Winnipeg.
Teaching Areas:
Introductory courses in the study of English literature; topics courses centering on interests in cultural studies and social justice and dealing with topics that arise from poststructural, postcolonial and feminist perspectives; introductory courses in creative writing.
Courses:

(F) ENGL-1000-006 English 1A
(F) ENGL-1000-007 English 1A
Publications:

Barkman Hill, Audrey. Reading from the Margins: The Construction of Normative Identity through Curricular Literature. Diss. University of Regina, 2011. Print.
Barkman Hill, Audrey. The Woman in Charge of the High School. MA Thesis. University of Lethbridge, 1998. Print.
Hill, Audrey. Contributor to Chapter. "Teaching Children's Literature". 46-47. The Pleasures of Children's Literature. Boston: Allyn & and Bacon, 2003. Print.
Hill, Audrey. "Peer to Peer". Virden Advocate 1984. Print.
Hill, Audrey. "A Community Maze". Chatelaine 1980. Print.