Customized Programs
English Language Program
---
Customized Programming & Private Tutorials
COMMUNICATION COACHING : Workplace Communication Skills Enhancement for Internationally Educated Professionals
For organizations looking for communication coaching opportunities for their Internationally Educated Professionals (IEPs), we have coaches who can meet your needs. A communication coach specializes in technical communication and can help your employees improve their oral communication, technical writing skills , pronunciation, communication styles and more.
Customized Communication Coaching Programs are available for groups or individuals at your organization.
For more information please click here 

Customized English Language Programs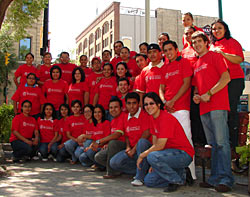 At the University of Winnipeg, we can custom design a program to specifically meet the unique needs of any group looking for Intensive English study.
Program possibilities include, but are not limited to: 
Business ( with or without a work placement component)
Canadian History and Culture
English for Professionals
Teaching English as an Additional Language
Customizing an English Language Program
We will work hard to offer a customized program that meets the needs of your group, whether the target focus is academic, cultural, or professional. 
We can provide course content that focuses on essential English language skills as well as many opportunities for English communication through planned socio-cultural activities.
We can also offer a choice of accommodation, either through our Homestay Program, or University of Winnipeg residence.

The University of Winnipeg offers:
Personalized and professional instruction by skilled and supportive instructors who are trained in second language instruction methods
High academic standards that stress essential skills
Wireless and computer lab access throughout campus
Practical and effective classroom lessons and workshops
Many different activities & city excursions
Homestay or residence accommodations
Certificate of program completion
Opportunities to experience the culture and lifestyle of a uniquely Canadian prairie city

Application Information
If you would like to propose a customized program for your group at the University of Winnipeg, please submit the following application form with your ideas: Customized Program Application [PDF]
Please submit your Customized Program application to:
Sarah Leibl
         
Short Term and Customized Programs Coordinator
          c/o English Language Programs
          The University of Winnipeg
          515 Portage Ave
          Winnipeg, MB
          R3B 2E9
          Canada
          Phone: 1-204-988-7124
          Email:
sa.leibl@uwinnipeg.ca

Private Tutorials
Private Tutorials can be arranged through The University of Winnipeg English Language Programs. A tutoring contract consists of a total of 10 hours of one on one contact with a tutor. Every effort is made to match each student with a tutor who can help with his / her specific needs. Once a tutor is assigned, you and your tutor will make a timetable for your 10 hours of study on campus. To print and return the tutorial application form, click
here
[PDF].
Please submit your Private Tutorial application to:
          Sarah Leibl
          Short Term and Customized Programs Coordinator
          c/o English Language Programs
          The University of Winnipeg
          515 Portage Ave 
          Winnipeg, MB
          R3B 2E9
          Canada
          Phone: 1-204-988-7124
          Email: sa.leibl@uwinnipeg.ca