The 2015 Duff Roblin Award Dinner
Duff Roblin Award Dinner
---
"I give you this challenge: read the recommendations. Find one, just one, that touches you and work with it. Make it happen."
- The Honourable Mr. Justice Murray Sinclair
At the 9th annual Duff Roblin Award Dinner on Tuesday, November 17, 2015, The Honourable Mr. Justice Murray Sinclair, Chair of the Truth and Reconciliation Commission of Canada (TRC), delivered this powerful call to action when he accepted the 2015 Duff Roblin Award.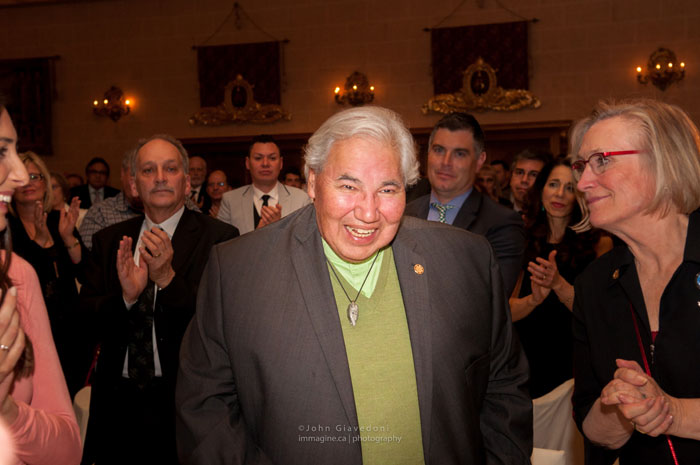 Watch highlights from the dinner below.

To watch the video of the entire event, click here. An event photo gallery is available here.

More than 440 guests gathered at The Fort Garry Hotel, Spa and Conference Centre to honour Justice Sinclair, making it the most successful dinner in the event's 9-year history. Over $100,000 was raised in support of the Duff Roblin Scholars Fund, Community Learning initiatives, and the Truth and Reconciliation Commission of Canada Scholarship Fund.
It was an inspiring evening of dialogue and fellowship, particularly with this year's introduction of Conversation Table Sponsorship. At each Conversation Table, guests from the sponsoring organization were joined by representatives of the student body and leadership within the Indigenous community. Many in attendance took to Twitter to share their reflections:
An emotional welcome and standing ovation for @Sincmurr. The love in the room is powerful #DuffDinner #trc2015 – Michael Champagne (@northendmc)
#duffdinner Justice Murray Sinclair: Canada "wears a cloak of shame" – how to earn indigenous trust: be my friend, have my back" – Marilou McPhedran (@Globalist)
@WabKinew: If we are to respond fully to the TRC recommendations, we will be doing justice to our country. #DuffDinner #TRC2015 – UWinnipeg (@uwinnipeg)
As you make your own commitment to advancing reconciliation, you may wish to refer to the following resources:
In particular, you may wish to consider the 94 Calls to Action made by the TRC in order to redress the legacy of residential schools and advance Canadian reconciliation.
To read more about the 2015 Duff Roblin Award Dinner, please see the following articles: