Successful Science Rendezvous Event
Tue. May. 21, 2019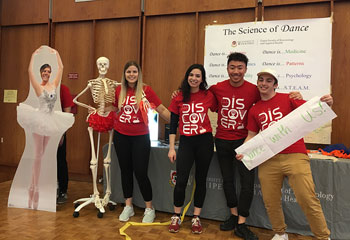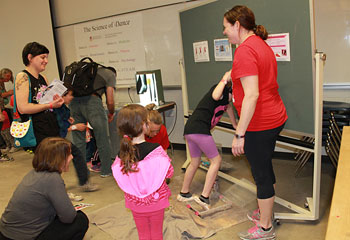 S.T.E.A.M. Big was the theme of this year's Science Rendezvous – a national science, technology, engineering, art and math festival that runs both a school-based and public festival and attracted more than 5000 people this year.  Science Rendezvous began as a joint program between five Ontario universities to open the world of science research and academics to the public and introduce face to face interaction and engagement of science concepts to school aged children.  Now held across the country, the 12th annual festival took place on the University of Manitoba campus with over 70 booths that included "Pepper the Robot", the Harry Potter Chemistry show and many hands-on activities indoors and out.  The Gupta Faculty of Kinesiology and Applied Health booth represented the Science of Dance and examined force, balance, anatomy, patterns, accessibility and health by standing in clay "en pointe", using ribbons to represent various music patterns, and completing colouring pages that highlighted muscle groups engaged during different dance positions.   Kids and parents had fun interacting with "Kinderella" and Bones the Skeleton while watching videos of different cultural dances.  Thank you very much to Jacqueline Ladwig for her consulting role, and to Keiana Fehr, Janelle Ablao and the rest of the U of M student volunteers for their expertise, energy, and time. 
From the Dean of Science at the University of Manitoba:
"What you were able to pull off and what you gave to our university community and our Winnipeg community through your incredible dedication, originality, creativeness, organization, persistence, and deep love of science is for me, simply mind boggling. When roughly four years ago we started with the notion 'to grow' Science Rendezvous in Winnipeg, I, at least, never imagined what success would look like. It looked like the smiles, thinking, engaging, participating we saw in the faces of ALL THOSE KIDS and their wonderful parents. Literally thousands and thousands of them."  Dr. Stefi Baum
Click here for another article on the Science Rendezvous Event.