2016 MPESA Awards Breakfast
Wed. Jun. 29, 2016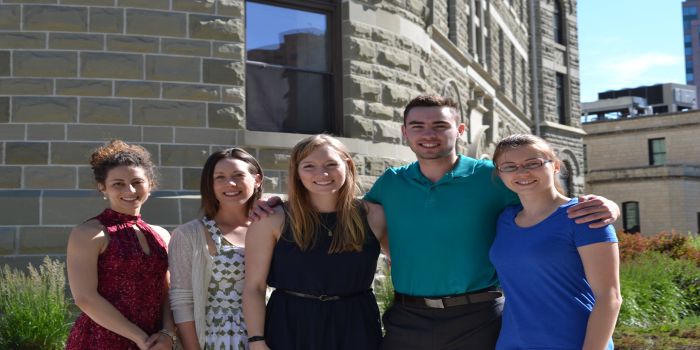 Photo by: Valerie Pelleck
From the left: Kristina Vasquez, Renee Plante, Carlyn Graff, Tim Ireland and Tia Boroski, absent: Jordan Bain
The Department of Kinesiology and Applied Health would like to congratulate the following award winners on their outstanding achievemnts in academics at the University of Winnipeg. Carlyn Graff was awarded the Henry Woltmann Award for the highest academic standing in the Department of Kinesiology and Applied Health. Tia Boroski was awarded the PHE Canada Award for the most outstanding undergraduate student leadership in the field of physical and health education. Renee Plante was awarded the CSEP Undergraduate Student Award. This award is given to an undergraduate student at a Canadian university with high academic standing pursuing a degree in the area of physical education, human kinetics or a related discipline.
This year two new scholarships created by The Kinesiology and Athletic Therapy Student Association (KATSA) were awareded to students in the Department of Kinesiology and Applued Health who displayed outstanding leadership and community involvement inside and outside the University of Winnipeg.  This year's scholarship winners were Tim Ireland and Jordan Bain.  As well, The Canadian Council of Univerisity Physical Education and Kinesiology Administrators (CCUPEKA) created a leadership award to be given out to a graduating students in a Kinesiology or Physical Education program at member universities to recognize leadership, academic success and a committment to the profession This year's award recipient at the University of Winnipeg was Krisitna Vasquez.
The awards were handed out at the annual MPESA Breakfast held at the Thomas Sill Multi Purpose Room in the Axworthy Health and RecPlex. Congratulations to the 2016 award winners!