Nathan Hall, PhD.
Kinesiology and Applied Health
---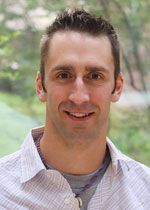 Office: 2Ax34
Building: Axworthy Health and RecPlex
Phone: 204.258.2950
Email: na.hall@uwinnipeg.ca

Biography:
Dr. Nathan Hall is a cross appointed Associate Professor between the Faculty of Education and the  Faculty of Kinesiology and Applied Health. He teaches courses in the areas of physical and health education pedagogy, and outdoor education.  He was a recipient of the AIESEP 2016 Young Scholar Award which highlighted his research in the area of alternative environment physical education. His other research interests focus on the use of mental imagery by physical educators and physical education teacher education. He is presently working as part of a national group to assess the physical literacy of Canadian children. In addition he is presently a board member on the Physical and Health Education (PHE) Canada Research Council and the Manitoba Physical Education Teachers Association (MPETA).