Gerren McDonald. MSc., CEP, EMC II
Kinesiology and Applied Health
---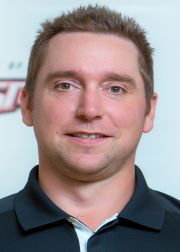 Office: 2Ax33
Building: Axworthy Health and RecPlex
Phone: 204.789.1408
Email: g.mcdonald@uwinnipeg.ca

Biography:
He is an instructor in the area of Exercise Physiology and an Alumni of the University of Winnipeg. He is a Certified Exercise Physiologist (CSEP-CEP) with an Exercise is Medicine level two designation. His research interests are in children's exercise physiology and environmental physiology. He is also currently the president of the Manitoba Kinesiologists Association.


Courses:
KIN 2304: Scientific Principles of Fitness and Conditioning
KIN 3106: Exercise Physiology
KIN 4106: Exercise Physiology in Chronic Disease
Publications:
Sran B.J., McDonald, G.K., Steinman, A.M., Gardiner, P.F. and Giesbrecht, G.G.(2014) Comparison of heat donation through the head or torso on mild hypothermia rewarming.Wilderness Environ Med. 2014 Mar;25(1):4-13. PMID:24412657
Gagnon, D.D., Pretorius, T., McDonald, G.K., Kenny, G.P. and Giesbrecht, G.G.. (2013) Cardiovascular and ventilatory responses to dorsal, facial, and whole-head water immersion in eupnea. Aviat Space Environ Med. 2013 Jun;84(6):573-83. PMID: 23745285
McDonald, G.K. and Giesbrecht, GG. (2013) Escape from a submersible vehicle simulator wearing different thermoprotective flotation clothing. Aviat Space Environ Med. 2013 Jul;84(7):708-15. PMID:23855066