Ben Trunzo, MSc., CAT(C)
Kinesiology and Applied Health
---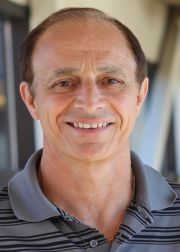 Office: 3D28
Building: Duckworth Centre
Phone: 204.786.9249
Email: b.trunzo@uwinnipeg.ca

Biography:
He is one of the longest serving Athletic Therapists in Winnipeg. He has dedicated his career to teaching, mentoring and advancing the field of Athletic Therapy for the last 30 years. He certified as an Athletic Therapist in 1987 and took over as Head Athletic Therapist in the Department of Athletics, at the University of Winnipeg that same year. As well he was also hired on to be an instructor in the Department of Kinesiology and Applied Health. He has stepped away from the role of Head Athletic Therapist in recent years to focus on teaching and mentoring Athletic Therapy students in the Department of Kinesiology and Applied Health. You will still find him dividing his time between treating patients in the Athletic Therapy Clinic and teaching in the classroom.
He has served on the board of directors, as well as, the examination review and selection committees for the Canadian Athletic Therapy Association (CATA) and was president from 1993 - 1994.
His accomplishments also include being part of the medical team in 1987, 1989, 1991 and 1998 for the Canada games. As well, he was part of the medical team in 1991, 1993 and 1995 for the World University Games and had the opportunity to be on the Canadian medical team for the 1996 Olympic Games in Atlanta and the 1999 Pan Am Games in Winnipeg.  
Courses:
KIN 1101: Intro to Kinesiology
KIN 2202: Prevention and Care of Sport Injuries
KIN 3107: Therapeutic Modalties in Sport Medicine
KIN 3504: Sport First Responder
KIN 4501: Sport Injuries of the Spine