Pauline Greenhill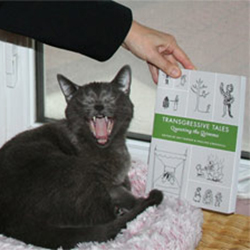 Title: Professor
Phone: 204.786.9439
Office: 4G19
Building: Graham Hall
Email: p.greenhill@uwinnipeg.ca
Degrees:
1985 Ph.D., University of Texas at Austin.

1981 M.A., Memorial University of Newfoundland.

1976 B.A. Honours, Trent University.
Biography:

SELECTED ACADEMIC AWARDS AND GRANTS
2014-2017 PI, co-investigators Cristina Bacchilega (University of Hawaii at Manoa, English), Steven Kohm (UW, Criminal Justice Studies), Anne Kustritz (Amsterdam University, Netherlands, Media Studies), Martin Lovelace (Memorial University of Newfoundland, Folklore), Sadhana Naithani (Jawaharlal Nehru University, India, German Studies), Jill Terry Rudy (Brigham Young University, US, English), Cat Tosenberger (UW, English), Jack Zipes (UW adjunct, WGS); Fairy Tale Media and Cultures Today, SSHRC Partnership Development Grant, $200,000
2011 Manitoba Day Award of the Association of Manitoba Archives for Make the Night Hideous
2011-2014 PI, co-investigators Cat Tosenberger, English, Steven Kohm, Criminal Justice, and Sidney Eve Matrix, Film Studies, Queen's University, and collaborators Jack Zipes, Emeritus, German Studies, University of Minnesota, and Cristina Bacchilega, English, University of Hawaii at Manoa; Fairy Tale Films:  Exploring Ethnographic Perspectives, SSHRC Standard Research Grant, $149,928
2009 Elli Kaija Kongas Maranda Professional Prize, American Folklore Society Women's Section, for the Encyclopedia of Women's Folklore and Folklife
Affiliations:

Canadian Women's Studies Association: President-Elect, 1993-4; President, 1994-5; Past President, 1995-6.
Folklore Studies Association of Canada/Association Canadienne pour les Etudes de Folklore: Canadian Folklore canadien book review editor, 1990-1995; Canadian Folklore canadien (now Ethnologies), Associate editor, 1996-2003; Acting Secretary-Treasurer, 1999; Secretary-Treasurer, 2000-2005.
Publications:

Books (selected):
2016 Co-editor with Jack Zipes and Kendra Magnus-Johnston. Fairy-Tale Films Beyond Disney:  International Perspectives  (New York:  Routledge).
2014 Co-editor with Diane Tye.  Unsettling Assumptions:  Tradition, Gender, Drag (Logan:  Utah State University Press).
2014 Co-editor with Jill Terry Rudy.  Channeling Wonder:  Fairy Tales on Television (Detroit, MI:  Wayne State University Press).
2012 Co-editor with Kay Turner. Transgressive Tales: Queering the Grimms (Detroit, MI: Wayne State University Press).
2010 Co-editor with Sidney Eve Matrix. Fairy Tale Films: Visions of Ambiguity (Logan: Utah State University Press).  
2010 Make the Night Hideous: Four English Canadian Charivaris, 1881-1940 (Toronto: University of Toronto Press).
2008 Co-editor with Liz Locke and Theresa Vaughan. Encyclopedia of Women's Folklore and Folklife, 2 volumes. (Santa Barbara, CA: Greenwood Press).


Articles in refereed journals (selected):
2014.  "Wanting (To Be) Animal:  Fairy-Tale Transbiology in The StoryTeller."  Feral Feminisms 2:29-45. 
2012 "Dressing Up and Dressing Down: Costumes, Risky Play, Transgender and Maritime English Canadian Charivari Paradoxes." Canadian Theatre Review151, Summer, 7-13.
2011 (Steven Kohm, co-author.) "Pedophile Crime Films as Popular Criminology: A Problem of Justice?" Theoretical Criminology 15 #2:195-216.
2010 (Steven Kohm, co-author.)  "'Little Red Riding Hood' Crime Films: Criminal Themes and Critical Variations." The Annual Review of Interdisciplinary Justice Research 1:77-93.
2010 (Kendra Magnusson, student co-author).  2010. Your Presence at Our Wedding Is Present Enough': Lies, Coding, Maintaining Personal Face, and the Cash Gift." Journal of Folklore Research 47 #3: 307-333.
2010 (Leah Claire Allen, student co-author.) "The Most Ambiguous Gift: Cash and the Presentation Wedding Tradition in Manitoba." parallax 16 #1: 7-18.
2009 (Steven Kohm, co-author.)  "Little Red Riding Hood and Pedophile in Film: Freeway, Hard Candy, and The Woodsman." Jeunesse: Young People, Texts, Cultures 1 #2: 35-65.
2009 "Welcoming the Newlyweds: Charivari, Shivaree, Serenade, Banjo, and Saluting in Nova Scotia." Acadiensis 38 #1:52-74.


Chapters in books (selected):
2012 "Men, Masculinities, and the Male in English Canadian Traditional and Popular Cultures," in Canadian Perspectives on Men and Masculinities, ed. Jason A. Laker. Toronto: Oxford University Press, 126-150. 
2012 "Folklore and/on Film," in A Companion to Folklore, eds. Regina Bendix and Galit Hasan-Rokem. London: Wiley, 483-499.
2003 with Anne Brydon, "Representations of Crime: On Showing Paintings by a Serial Killer," in Crime's Power: Anthropologists and the Ethnography of Crime, eds. Philip C. Parnell and Stephanie C. Kane. New York: Palgrave Macmillan.
----- . "'Places She Knew Very Well: The Symbolic Economy of Women's Travels in Traditional Newfoundland Ballads," in The Flowering Thorn: International Ballad Studies, ed. Thomas A. McKean. Logan: Utah State University Press.
2001 "Can You See the Difference?: Queerying the Nation, Ethnicity, Festival, and Culture in Winnipeg," in In A Queer Country: Gay and Lesbian Studies in the Canadian Context, ed. Terry Goldie. Vancouver: Arsenal Pulp Press.
-----. "Reflexions sur la notion de lieu (home) dans les chansons populaires de Terre-Neuve," in Entre Beauce et Acadie: Facettes d'un parcours ethnologique, ed. Jean-Claude Dupont, et al. Quebec: Les Presses de l'Universite Laval.
2000 "Folklore," Encyclopaedia of Feminist Theories, ed. Lorraine Code (NY: Routledge).